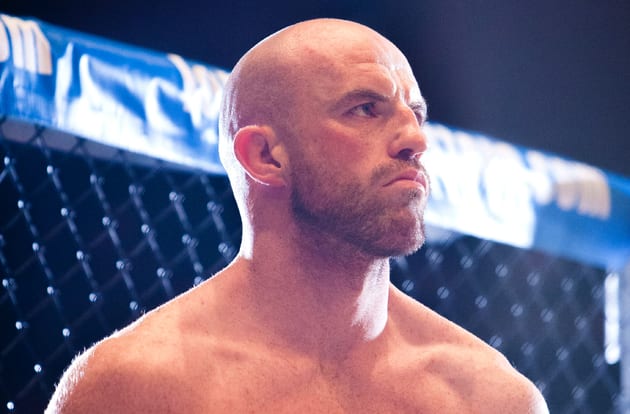 On Saturday SBG Ireland competitor Peter Queally squares up with Armenian lightweight David Khachatryan in the main event of Fight Nights Global 87 in Rostov, Russia, in what is arguably the biggest career opportunity that 'The Showstopper' has had to date. 
A win against the 24-3 Khachatryan would place the Irishman squarely in the hunt for a title shot in the Russian promotion and with an Irish card touted before the end of the year for the promotion, it could lead to something of a rarity in Irish mixed martial artist — a world title opportunity on home soil.
First things first, however. Khachatryan has never been finished in his professional career and has been beaten just once in his previous 17 bouts but Dungarvan man Queally is confident that he is the man to break his opponent in the five round featured bout, especially when he speaks of the level of training he receives at SBG Ireland.
"I feel brilliant, the best I've ever felt," Queally says. "My last fight was five rounds too so it's just carrying on from that – I'm used to it now. The only real difference I do is that my sparring is five rounds now instead of three rounds. I use fresh men; I use two men for the sparring, a fresh man for the last two rounds. The idea is that I will break him and he won't break me. I'm a very hard man to beat when it's over five rounds.
There is an international flavour on the mats at SBG at the moment. Finland, Wales, Australia, Italy, Croatia and numerous other nationalities are all represented under the gym's banner but it is the experience of training alongside (and sometimes against) SBG's most famous son which provides Queally with resounding confidence.
"I did five fives with Conor recently," he explains. "One man is enough when it's Conor."
"The confidence that gives me, or anyone in the gym, you're in there with no just the best lightweight in the world, but the best fighter in the world. You're in there sparring with him for five rounds and however they go, even if you're just surviving it, that's something. That gives me great confidence. My fights are never anything like the spars with Conor. That's why I stay so calm and that's why I've never been finished in a fight, I'm used to Conor trying to finish me all the time. No man can finish me."
That said, no man has ever finished Khachatryan either. But as every fighter will tell you, your record counts for precisely zero once that first bell rings and Queally remains confident he has the tools and the fight IQ to break the Armenian down round by round.
"I don't obsess [about watching tape of opponent] but I definitely do watch some," Queally explains of his pre-fight strategy. "I don't study him but I usually just watch his most recent fight a couple of times to see if he has any tendencies, anything that's glaringly obvious. Tendencies always stay, I think. I have tendencies that won't go away and perhaps he knows them. If you obsess over watching tape, what if he shows up and he's a bit different and you've done all your sparring based on this?
"People aren't familiar with him but he's ranked higher on Fight Matrix than the majority of UFC lightweight roster. This is the kind of level of opponent I'm fighting over there, it's just no one knows them because they're fighting in Russia."
This will be Queally's fourth fight under the Fight Nights Global banner and he has become familiar with the trip to Russia, this time bringing along James Gallagher and SBG coach Sergey Pikulskiy as his corner.
"I've got this fight and then one more left on my deal. I really like it out there. I get paid very well, the guys are treating me very well. The fights are really tough, which I like. I perform better against these kind of fighters. If something came along I'm not saying I'll never leave but I don't want to leave, I'm really enjoying my time there. I'm not looking to jump ship. The level of treatment, the level of hospitality is right up there with the UFC."
But this ain't no holiday. On Saturday there is work to be done and the sight-seeing can wait until Sunday morning.
"I expect it to be very exciting fight because he's a brawler, for want of a better word. I like that. I don't like when someone runs from me. I'm not going to have to look for this fella, he's going to be right there in front of me."
Comments
comments