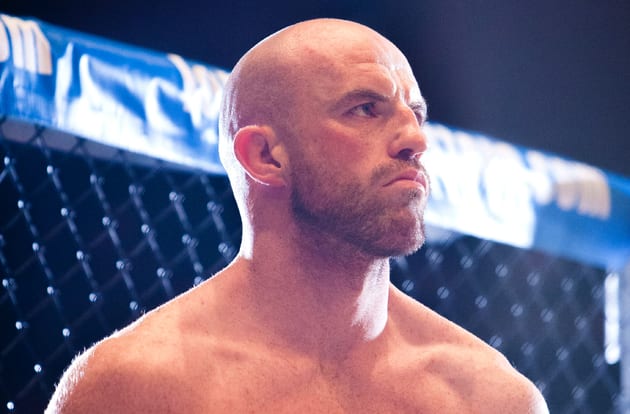 When Peter Queally knocked out David Khachatryan at Fight Nights Global 87 with a big right hand early on, it didn't take long for the attending Russian crowd to voice their disappointment.
As Queally celebrated the victory, projectiles began hitting the cage and boos showered the Irishman. It was, as he says himself, an interesting situation to be in.
"It was an angry atmosphere," Queally said, speaking to TheMacLife.com. "As the fight was going on, as we made the entrances, there was a hostile but kind of respectful atmosphere. Once the fight was over, it turned very nasty. They was angry because I beat Khachatryan in such a fashion, but I feel like they were more angry at the referee because they felt like it was an early stoppage. Which, if you look at the replay, it wasn't an early stoppage. At the time I think there were a lot of Russians that were angry, they thought it was an early stoppage.
"It got crazy, there were bottles and coins, everything coming into the cage. Khabib's father got a belt with a bottle at one stage outside the ring. It was mad. We got an armed guard out of the ring back to the hotel. It was mad, it was heavy to be honest with you."
But despite already experiencing one angry setting, Queally wasted no time in finding his next feud. He, along with several of his SBG teammates, have been going back and forth with the Brazilian Patricky and Patricio Freire siblings — also known as the Pitbull Brothers.
After the long running bad blood, it's no surprise Queally is ready and willing to settle the score as soon as the opportunity arises, especially if it can take place on his home soil.
"There was someone who put out the idea of gym vs. gym, so the Pitbull brothers vs. SBG," Queally said. "I can't even remember who it was, it might have been Brian Moore, I think. Then John [Kavanagh] put fuel to it as well, said he'd be open to a few different things. Basically that's where it started.
"Then this Patricky, the lightweight guy — there's a featherweight and a lightweight — he's been calling me out. So if he wants it, he can get it and that's it. I'll butcher him, he's a nice match up for me. And it'd be a very good fight actually for the fans because he's a stand up guy and so am I. And I think Bellator could be coming here [to Ireland] at the end of the year.
Haha shut up you fucking donkey

— Peter Queally (@peterqueally) May 30, 2018
You're dog shit mate. You're about 5 feet tall. You don't know how to fight. I would destroy you. You know it, I know it, everyone fucking knows it. Now stop pretending like you would actually fight me and fuck off you little bitch @PatricioPitbull

— Peter Queally (@peterqueally) May 30, 2018
–
Comments
comments