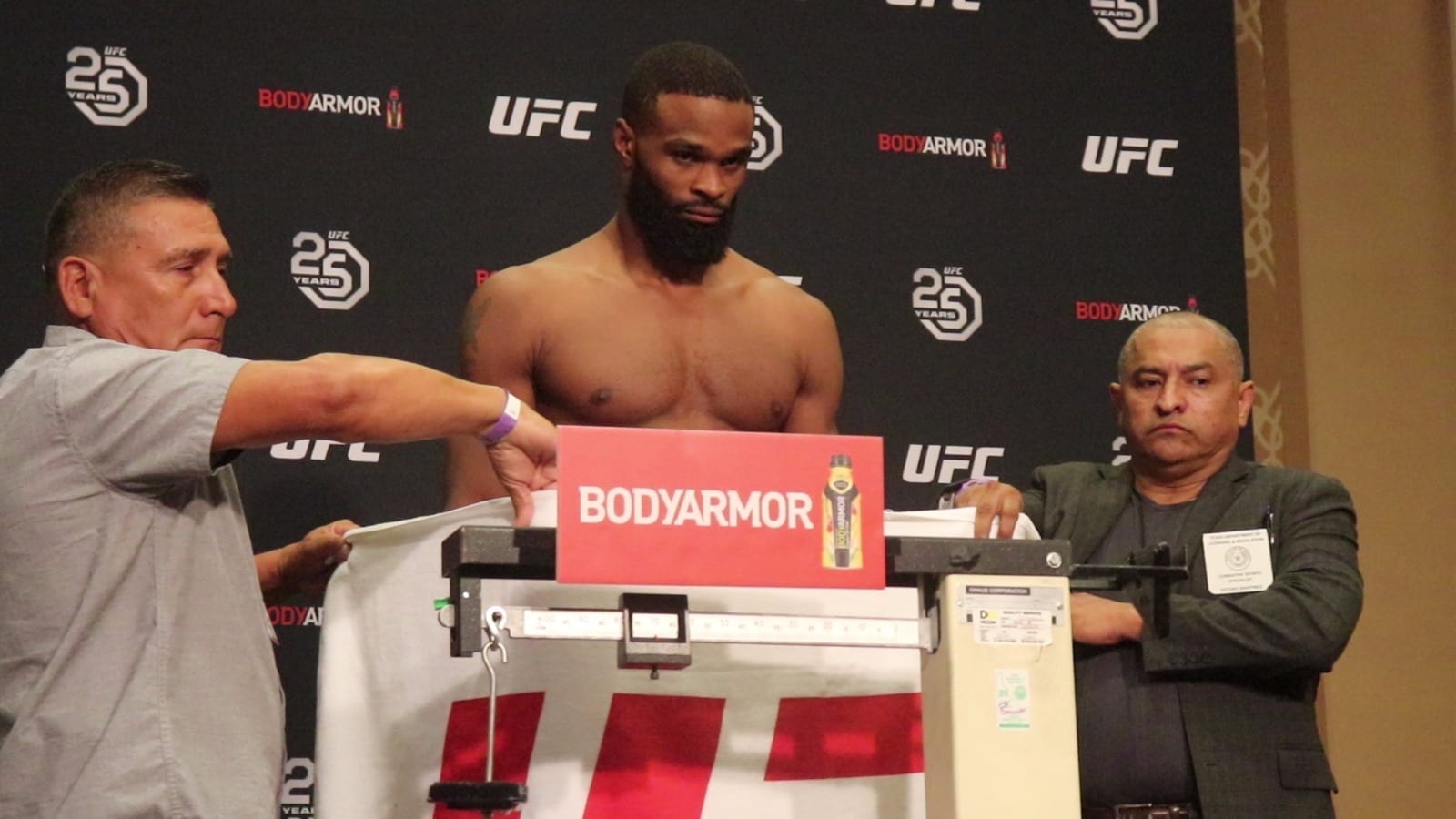 When Tyron Woodley walks to the cage for his UFC 235 welterweight title defense against Kamaru Usman on March 2, he will do so for the fifth time and having already bested all challengers to his 17-pound throne, he is beginning to look up a division for future opponents.
Speaking to ESPN's Ariel Helwani's MMA Show via MMA Fighting, Woodley said that he isn't exactly sure what shape his career may take after the Usman fight. He says that he also wants to defend against rival Colby Covington but after that, he may look to become the UFC's latest two division champion.
"Those aren't my decisions to make," Woodley of his future bouts. "I'm just the welterweight champion of the world so when somebody steps up and thinks they want it, I've got to put them down. So Kamaru Usman, Colby Covington, and whoever else, this year I've got to fight those guys, this is just the order the UFC wanted to do it.
"People at middleweight, they need to watch out too. I might slide on one of y'all by the end of the year."
Jumping around in separate weight classes has become an increasing trend in recent years, though Woodley is heartened by the success of former 170-pounders Robert Whittaker and Kelvin Gastelum who will soon meet in a title bout at middleweight.
"Why not?" he said. "What better year? Wipe out the division clean, welterweight, and go up there and either beat 'Fatsum' up again or take out Robert Whittaker. They're both welterweights anyway, they just don't know how to cut weight.
"At the end of the day, what is the fight for?" Woodley said. "Do you want me to fight more? I want to fight more. Do you want me to become this superstar? I am a superstar. I just need the push it, I need the machine to get behind me a little bit more, and from the conversations I had, I believe that's going to happen this year. Whooping up Usman, whooping up Colby, and then finishing out with one more fight at the end of the year, I think that's gonna be a great year for me. It'll be the first time I'm up for Fighter of the Year, so that's what I'm excited about."
Comments
comments