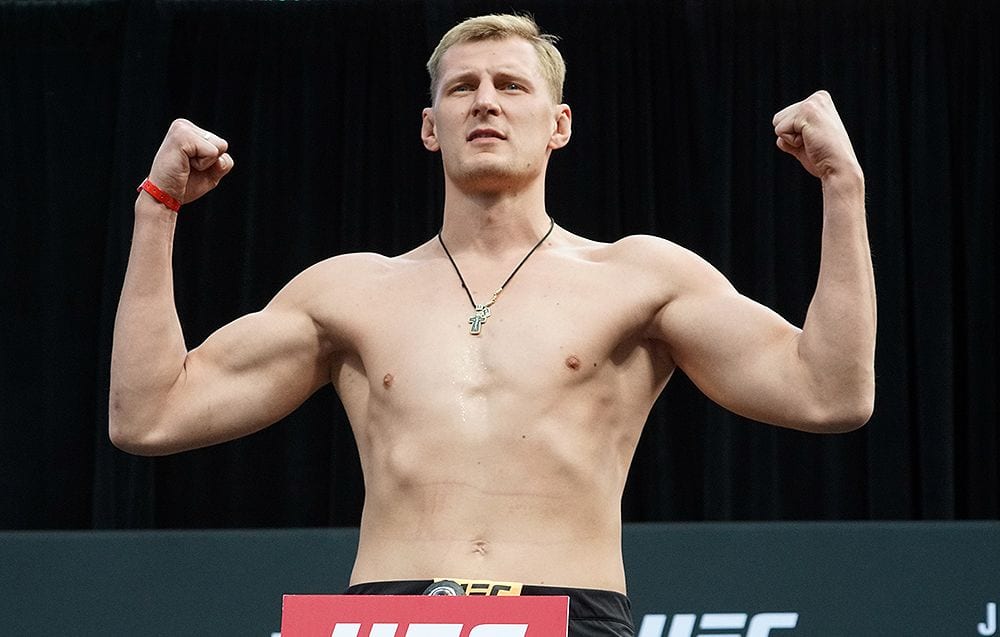 Russian heavyweight Alexander Volkov says that the constant role of being seen as underdog has never bothered him in his career, writes Denis Geyko.
Volkov, who is set to face Brazilian veteran Fabricio Werdum in the main event of UFC Fight Night 127 in London this weekend, spoke exclusively to The Mac Life ahead of the bout. Speaking over the phone, the 29-year-old Moscow native, who landed in the England's capital on Wednesday, told us about his preparation for the fight, being underdog and mutual respect with Werdum.
The Mac Life: We know that during your preparation for your last fight with Stefan Struve you had a four-time K-1 World Champion, Semmy Schilt, who stands 6'11, as your sparring partner. Did you have any special sparring partner for the fight with Werdum?
Alexander Volkov: Not really. I was training with the guys from my own team (Strela Pro). The thing is, many of the guys in our team specialize in Jiu-Jitsu, so I've spent a lot of time with them working on this aspect.
TML: Werdum is obviously one of the fighters, who many MMA fans and fighters looked up to growing up. Were you also watching his fights when making your first steps in MMA? And how does it feel to fight someone like that?
AV: Recently I've been training with many notable fighters, and I kind of got used to training and fighting with the guys who I looked up to growing up. But of course it would be nice to add him to the list of my victories. Obviously, I have nothing but respect for Fabricio. A whole generation of the fans and fighters grew up watching his fights. And it's hard to underestimate the role he has played in this sport.
TML: Before your last fights you were making some sort of friendly provocations and callouts for your opponents on social media. And you were obviously pretty creative about it. But we haven't seen any of those before the Werdum fight. Is it because of the respect you have for him?
AV: I think we both have a great respect for each other, plus we have previously trained together. There is no single reason for a conflict between us. I just want to go there, do my thing, get it done. And hopefully we will stay friends after the fight.
TML: Much like in your previous UFC fights you are considered an underdog in this bout. Does it ever bother you what people say about your chances before fights?
AV: It doesn't matter to me. Plus, those people who try to estimate the chances of the fighters before the bout, they miss one big thing – they weren't in their training camps. They have never seen me training, they have never seen the other guys training. They are taking into consideration previous fights, and it's a wrong thing to consider. Because people don't know how well fighters were prepared for their previous bouts. Maybe one of the fighters wasn't feeling well or something happened in his personal life. Being underdog doesn't mean anything to me really. If I'd think about that I'd probably pull out from my previous fights, right? But that is ridiculous. I do believe in my abilities, and there is no other way in this game. Otherwise I see no reason to step in the cage.
by Denis Geyko for The Mac Life
Comments
comments