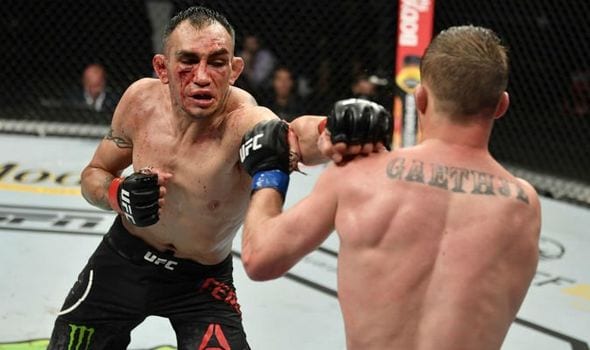 The much-anticipated fight between lightweight contenders Tony Ferguson and Dustin Poirier looks to be dead in the water after Dana White confirmed to the media that the organisation is seeking an alternative opponent for Ferguson after struggling to agree to a deal with Poirier.
The two had been linked to a fight which would have served as the co-main event to the October 24 clash between Khabib Nurmagomedov and would have established one of the two as being at the top of the queue to face the UFC lightweight champion some months down the line.
Last week, though, Poirier took to Twitter to say that he was a 'prizefighter' and would only compete if he was assured to receive the type of compensation he requests — with White saying to the media recently that the fight is no longer being looked at.
"No, we're not even trying to salvage it," White said Sunday. "We're getting another fight. It'll happen (with a different opponent for Ferguson)."
It appears that this stance doesn't sit particularly well with either of the men who were scheduled to compete, with Ferguson taking to Twitter late on Sunday to openly campaign for an accord to be reached.
"Here's Lookin' At You Kid" Pay the man @danawhite @ufc Love ya'll but let's give the Hardcore & Casual fans what they deserve, a good fight Sir ⚔️🕶 -CSO- 🇺🇸🏆🇲🇽 @DustinPoirier #ufc254 pic.twitter.com/uVwwZIUtSd

— Tony Ferguson (@TonyFergusonXT) September 14, 2020
"Pay the man, Dana White and UFC," Ferguson wrote (via editing) on Twitter. "Love ya'll but let's give the Hardcore & Casual fans what they deserve, a good fight Sir."
White, though, isn't often known for changing his mind based upon social media campaigns orchestrated by fighters so, with Poirier having stopped training and returned to his home in Louisiana, it seems likely that a new name will be rolled out for Ferguson to trifle with in around five weeks' time.
Poirier took to social media himself early Wednesday to further comment on the talks, referencing a familiar Tony Ferguson meme to say that the Ferguson is the 'type of guy' to help him get a new UFC contract for the showdown to occur.
Violence!!!⚔⚔⚔ let's go Tony!!! https://t.co/kOmI3ntXEC

— The Diamond (@DustinPoirier) September 14, 2020
Tony's the type of guy who would manage his opponent and get him a new contract for the fight to happen.

— The Diamond (@DustinPoirier) September 14, 2020
–
Comments
comments