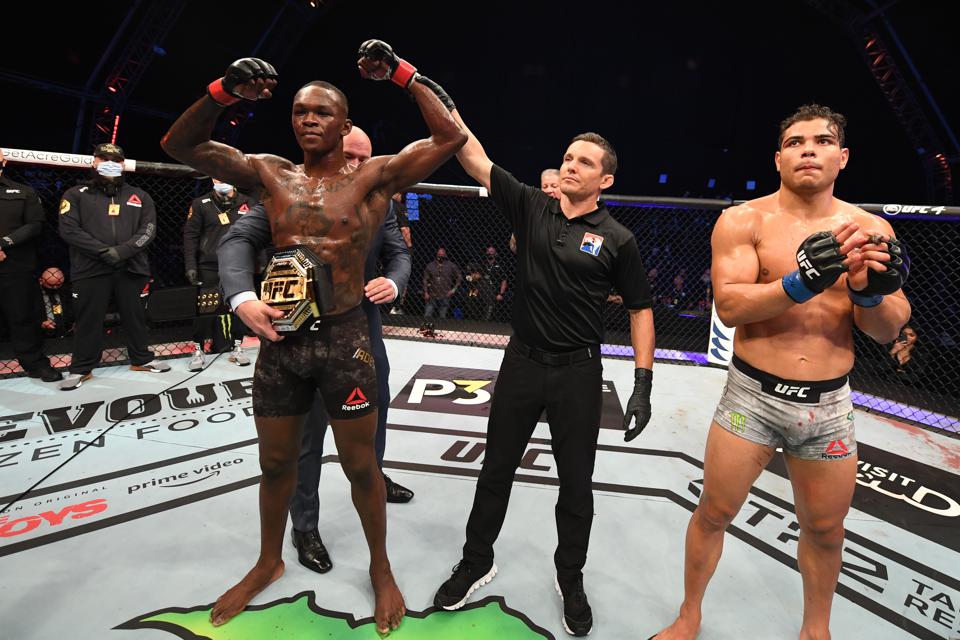 Paulo Costa and Israel Adesanya might have fought inside the cage, but it seems the pre-fight issues between them haven't gone anywhere.
Adesanya has made a point to revel in his victory after Costa spent the majority of their lead up mocking the champion. It seems the words and memes are starting to get to the contender. In a video, Adesanya posted to his Instagram, Costa told Adesanya to stop sending him polite messages (which Adesanya subsequently attached), and instead said there were outside factors that hurt Costa's performance on fight night.
"I'm obsessed training. Adesanya stop sending some friendly messages to me," Costa said. "I don't want to be your friend. I want to kill you. I want to kill you. A lot of bad things happen before our fight. I was hurt before the fight. Not sleeping. A lot of things. But I'm not here to excuse, I'm here to say to you, next time will be different."
In response, Adesanya captioned the post with the following:
"Sounds like excuses to me… 🤷🏾‍♂️ Lol I tried to be nice lowkey, in case he was suicidal," Adesanya wrote. "Paulo you haven't even accepted that fact that you got schooled by the skinny guy who you kept trying to pick on. Now I'm a bully, but at least I'm nice. Your fragile ego cannot fathom how this "Skinny Clown" was able to beat you so easily. Humble yourself and learn from this so you might grow as a person. Train all you want, you'll never ever beat me.
"I own your mind now cuz you'll be obsessed with me forever, like my ex. Say all you want bout me… Doesn't matter, still smashed!!"
Comments
comments