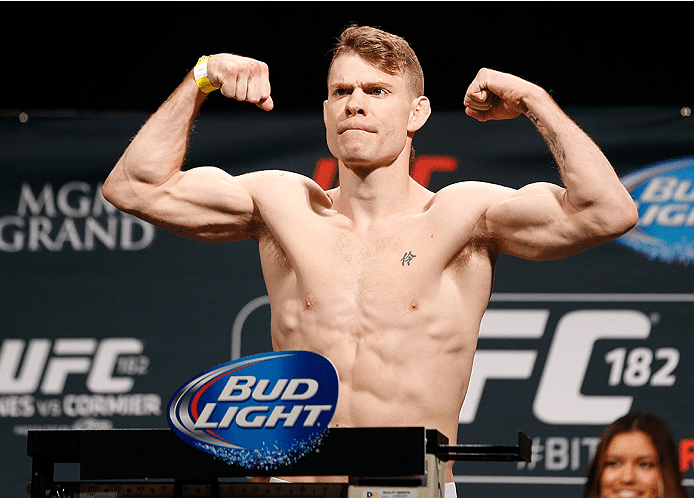 If you wanted any sign of how much of a gamer Paul Felder is, look no further.
According to ESPN's Ariel Helwani who was in touch with Felder's management following his decision win against James Vick at UFC Phoenix on Sunday night, 'The Irish Dragon' suffered a collapsed lung with minutes remain in the third round. Apparently though, Felder didn't allow the thoracic issue to fluster him as he fought through all 15 minutes — including a few immensely uncomfortable final moments — to gain the nod of the judges.
Felder's manager Brian Butler said to ESPN's Helwani that he suspects the issue arose when Vick landed a liver shot in the third round.
In addition Felder's injury has removed him from the UFC Prague announcer's desk this weekend, reports Helwani.
He is being held an extra day at a local Phoenix hospital for observation, Butler said. As a result of the injury, Felder has been forced to pull out of his color analyst duties for this weekend's UFC Prague telecast, Butler said.

— Ariel Helwani (@arielhelwani) February 18, 2019
Collapsed lungs, as your writer can attest firsthand, are no fun whatsoever — even more so if/when a trained fighter is trying to punch you in the face. Depending on the size of tear in the lining of the lung caused by the liver shot, air begins leaking from the lung and becomes trapped in the thoracic cavity which can lead to an acute discomfort as the air rises to the top of the cavity, restricting the lung's ability to expand.
While not an emergency situation, if air had collected in his chest cavity to such an extent that it was restricting lung function doctors may have inserted a drain in his chest to help allow the trapped air to exit — though we stress that this is speculation based on the past experiences of our writer.
Felder has been held in hospital for an extra day for precaution.
Comments
comments