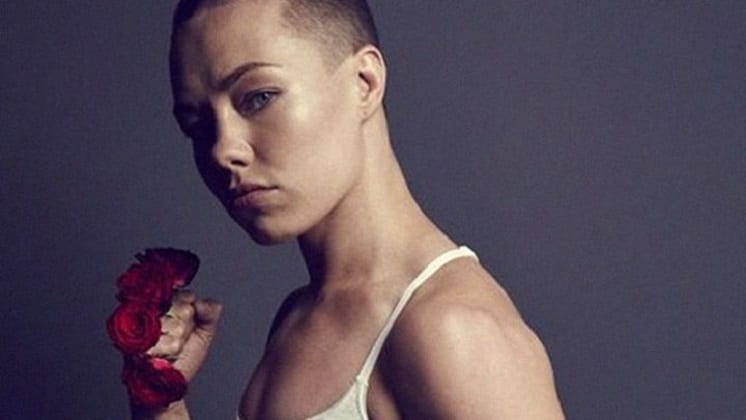 Pat Barry, former UFC heavyweight and the fiancee of UFC strawweight champion Rose Namanjunas, says that Joanna Jedrzejczyk must take responsibility for her pair of losses to the reigning champ.
Namajunas, who was a considerable underdog, caused one of the upsets of 2017 by knocking out the previously undefeated Jedrzejczyk at UFC 217 in Madison Square Garden last November. The rematch the following April had the same result, despite it going all five rounds, but in her comeback bout last weekend Jedrzejczyk found herself back to winning ways — and afterward declared herself as the "queen" of the UFC's 115-pound division, despite the losses to the reigning champion.
"No way I'll say Rose is the best," Jedrzejczyk said post-fight following the win against Tecia Torres. "Maybe you beat me, you're the champion and you won. But your legacy isn't that big. You should bow down, because I am the queen."
However, Barry says that this is an incorrect mindset to have.
"I think that Joanna is f*cking herself over by not accepting defeat," Barry said to MMA Fighting. "That's why she lost to Valentina three times. Lost the first time, she got robbed. Lost the second time, she got robbed. Lost the third time. Knockout to Rose, wasn't her fault. Lost a decision, wasn't her fault. She wants to fight Rose again. She's not going to be able to. It's still going to be Rose.
"You can grow from losing," said Barry, who will corner JJ Aldrich for her main-card fight with Polyana Viana on Saturday night. "If you're not going to grow from that, how are you going to get better? It's not her fault that anything ever went wrong in her life. It's everyone else's fault but hers.
"Honestly, as good as Joanna is — she's a f*cking fantastic athlete, she's a dominant athlete, one of the best female fighters to ever live, ever — if she accepted the responsibility for it, how much better would she get? How much better would she be if she accepted it, worked on making some changes? How much better would she be? But she's been so dominant for so long, I don't think she's going to make any changes.
"If you think about it, when Joanna came out and fought Carla [Esparza] and beat Carla, that's the same Joanna that fought Rose. She hasn't advanced. She's the same fighter. She hasn't gotten better. Only thing is she's gotten in better shape. She's like Fedor. Fedor came out and killed everybody and no one could handle him for years and years and then eventually everyone caught up and figured him out, because Fedor didn't get any better. He stayed exactly where he was, and eventually everyone figured him out. Joanna hasn't gotten better; she's gotten more in shape. That's it.
"No, we know Rose is a better fighter," Barry said. "She beat her twice. There's no discussion. There's no discussion. If Joanna is the better fighter, she'd be the champ right now. But she's not. Rose is. She knocked her out, and then she beat her ass for five rounds.
"Rose wants to fight whoever's the best. If Joanna is the second best or the next best whoever it is, Rose wants to fight the best. Whoever's out there. But is she entertaining the idea of fighting Joanna again? Sure, if that's what comes around. Been there, done that."
Comments
comments