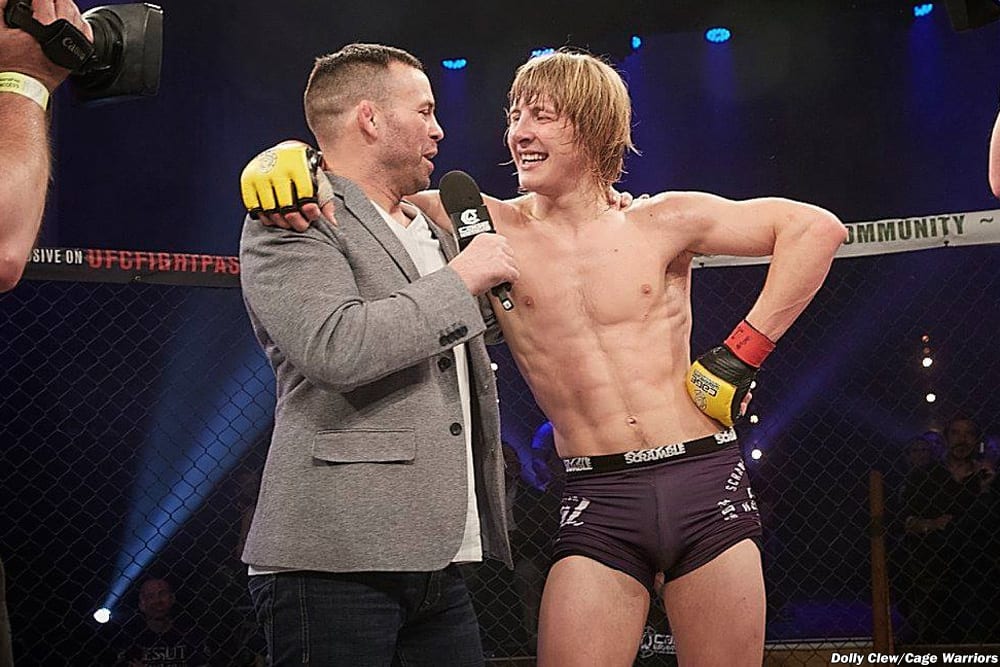 Paddy Pimblett and Joe Joe Giannetti seem to agree on one thing: their CageWarrior's contest is off.
The reason why, however, depends on which man you ask. Earlier today, Giannetti missed weight at the official weigh-ins by a considerable margin (163 pounds instead of 156), which resulted in something of a you, no you situation on social media.
According to Giannetti, he attempted to give as much of his purse to Pimblett as required in order to keep the contest alive.
I missed weight today🤦🏻‍♂️
Their scale had me at 163lbs
ITS NOT OKAY
BUT
I lost 25lbs in the last 10 days for this opportunity, cut was going great, then my body just stopped sweating
offered Paddy all my money and he threw a fit like and was talkin shit like a pos, waiting on word

— Joe Joe Giannetti 💀 (@Giannettimma) November 21, 2019
I tried being super respectful to Paddy and his team and explaining it's my fault, but it is short notice, I'll give them whatever they want, after the way they responded, I must say they're all trash🗑🗑🗑, #fightme 🤷🏻‍♂️

— Joe Joe Giannetti 💀 (@Giannettimma) November 21, 2019
For Pimblett himself, however, the money was never an issue. The Liverpudlian and his team felt that Giannetti had never really tried to make weight in earnest, and was counting on Pimblett accepting the cash so he could fight with an unfair weight advantage the next day.
So what an eventful weigh in🤣I step on the scales at 154.7 like a true pro my opponent then steps on the scales at 163.8& then sits down& starts eating& drinking immediately didn't even consider going in the sauna when if he wudda got to 160lbs all this cud have been avoided….

— Paddy Pimblett (@PaddyTheBaddy) November 21, 2019
He starts screaming& shouting saying he's not gettin in the sauna are we gonna make him when Adam says to him why are u rehydrating you've still got weight to cut u cud see he had more weight too loose but purposely didn't want to as to have an advantage come tomorrow night so…

— Paddy Pimblett (@PaddyTheBaddy) November 21, 2019
It looks like the fight is going to be off as he was unwilling to do any sort of compromise to make any sort of weight all the best to joe in the future but my career is too important to get fucked over like this but he's known he was gonna miss& not batted an eyelid sorry ppl👍🏻

— Paddy Pimblett (@PaddyTheBaddy) November 21, 2019
At that point, Giannetti began heavily campaigning for the fight to continue, taking to his twitter to insult Pimblett and accuse him of avoiding the contest, as well as reaffirming he was unable to lose any more weight, and he was willing to hand over whatever amount of money it took.
This isn't on me joe mate this is on u fella, I turned up and done everything what was asked of me I'm not gettin into this handbag shit on twitter as I came to fight my man all the best 👍🏻

— Paddy Pimblett (@PaddyTheBaddy) November 21, 2019
U wudda seen me tomorrow night if u was professional enough to make weight my friend I'm still getting paid cause I kept my end of the deal ur going home empty handed brother for trying to have an unfair advantage unlucky broski 👋🏻

— Paddy Pimblett (@PaddyTheBaddy) November 21, 2019
–
Comments
comments