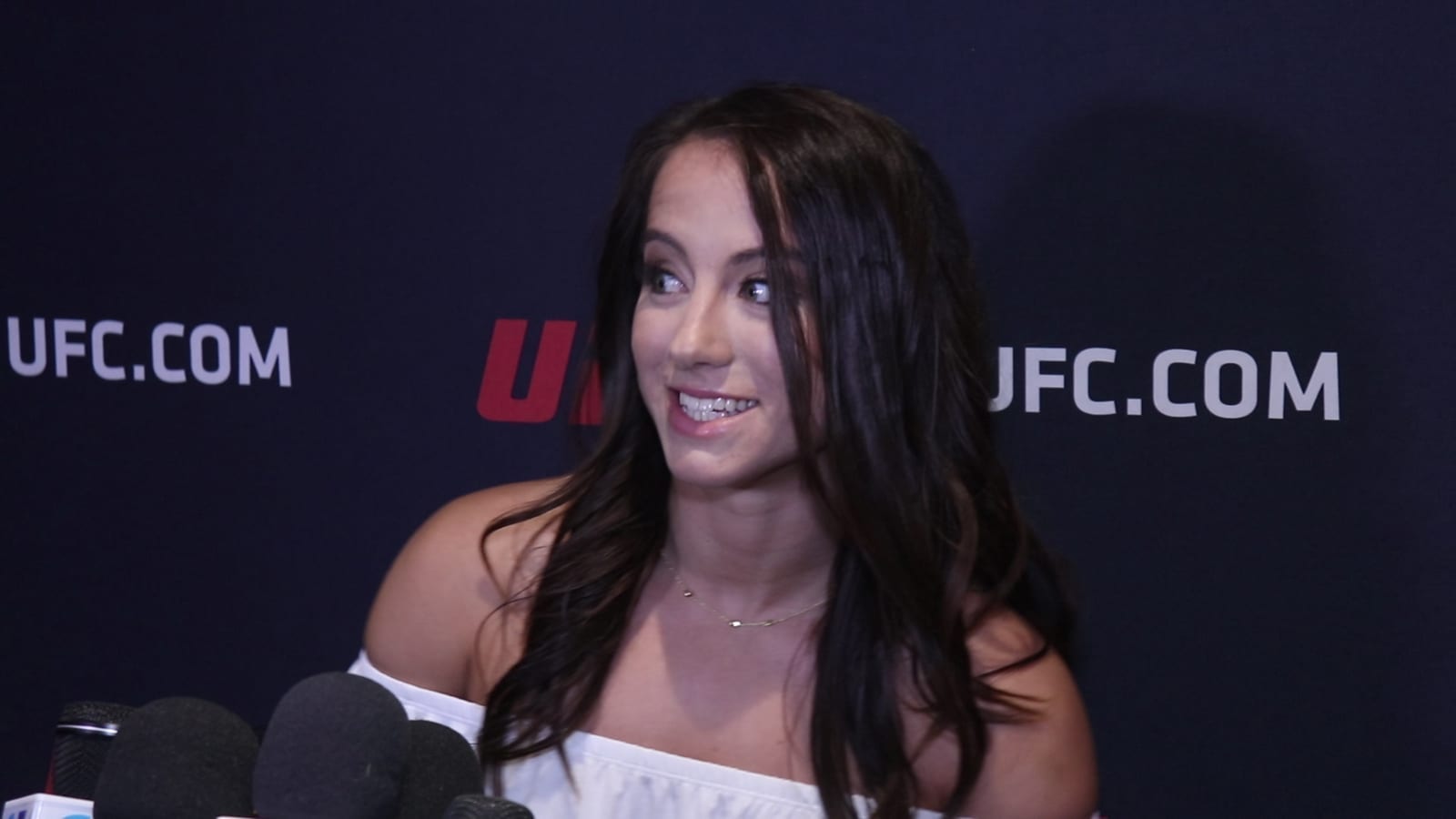 Maycee Barber's goals have become consistently linked to her mixed martial arts career.
The 21-year-old has famously had a countdown on her phone to beat Jon Jones' record and become the youngest ever UFC champion since starting her MMA journey, and it turns out getting the gold isn't the only milestone Barber's had her eye on.
Barber is set to face Roxanne Modafferi on the upcoming January 18 card (UFC 246) in Las Vegas, which is reportedly to be headlined by Conor McGregor in his return to the Octagon.
According to Barber, who was speaking to Submission Radio, featuring on a McGregor card has also always been on her list of achievements she wanted to look back on when it was all said and done.
"Honestly, that was a big dream of mine. You never know when Conor's going to be done fighting honestly, and that is something that I could not have asked to be on a card than with Conor McGregor," Barber said. "Like, that was a goal of mine and a dream of mine, and I didn't want to get too invested in that and just completely have my mindset on that because you cannot tell Conor McGregor what he's going to do and you can't just plan on it.
"So, I didn't want to get hopes up too high, but that's definitely been something that I really wanted to do, and I feel like it's part of history. He's one of the biggest in the UFC. He is the biggest in the UFC and in a lot of the fight world. And to be able to share a card with him and be on one, that is incredible."
It's because of that dream that, when she heard McGregor could be competing, she reached out to the UFC and specifically asked to fight in January.
"I asked for this date and I kind of had the understanding that he was gonna be on the card. But again, I didn't want to be like, alright, he's gonna be the main event. But that's kind of what I heard. So, yeah," Barber said.
Barber's desire to compete alongside McGregor doesn't just stem from the Irishman's name value. Even upon her entering the UFC, the prospect has claimed she could be the next Ronda Rousey and Conor McGregor, and admits she's learned things from watching the UFC's first double champion.
"I always try to learn something from people who have made it big in this sport. I also try to learn everything from as many people as I can," Barber said. "But in terms of like just the energy and the energy of the people surrounding it and the people watching. But also I do, I like to see how fighters like Conor McGregor carry themselves. Like, throughout fight week, or if it ever happens to be in the back or however it works out.
"To be able to see how other fighters carry themselves throughout fight week and the night of the fight, is something that I always try to do. And then also, just to know that if he knows that I'm on the same card as him and knowing that he's watching my fight, that's also a goal. That's also something that I like to think about, because I want to impress people that I look up to. So, yeah, just all around a good situation."
Comments
comments