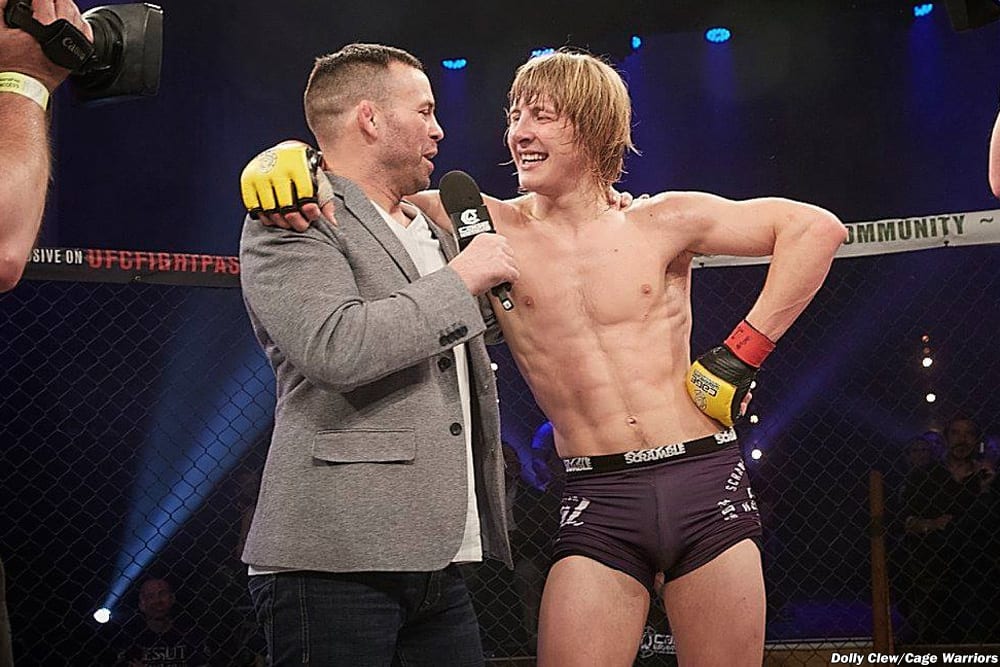 If you were hoping to see Paddy Pimblett fight at UFC Liverpool, the man himself might have disappointing news. Not only, he says, is he not going to compete at the event, but he's not even that bothered it's happening.
Almost immediately after the event's announcement, most fans and pundits alike voiced their assumptions that Pimblett would — at long last — be signed by the world's premiere MMA organisation. It would, after all, make all the sense in the world. Pimblett is something of a local legend in Liverpool, and has made a huge success by fighting in the area during his time with Cage Warriors. To bring him and his teammates on board to star on May 27 would be something similar to the now legendary show in Dublin back in 2014.
Sorry, Pimblett says. He's already got plans.
"I'm on holiday May 27," Pimblett said, speaking on MMA Fighting's The MMA Hour. "I'm in Mexico."
But if that's unexpected to sporting observers, it's not as surprising as his attitude to entire affair.
"I'm not that arsed, to be fair, about the UFC in Liverpool," Pimblett said. "I've headlined the show twice, and I fought there the other week. It's great for UK MMA and great for Liverpool, but the show is for Darren [Till]. Darren can have his show, I'm good me. I'll have my own one in September."
Pimblett went on from there, saying that fighting for the UFC wasn't essential for him.
"The UFC's not the be-all-and-end-all is it?" he said. "Its not. A lot of people in the UK call MMA, UFC. But it's not is it?. It's mixed martial arts, it's a sport. UFC's just a part of it. Just one brand. There's multiple brands. [I'd be content without fighting for them] as long as I'm still remembered as a legend.
"If I wanted to I could sign for them tomorrow. They need me more than I need them. I know so. I don't think so, I know so."
So why the disinterest? Well, while Pimblett didn't explicitly say as such, there's perhaps an air of quiet discontent with Till being the man of the moment, particularly with him being touted as the man who brought the UFC to Liverpool.
"I wouldn't play second fiddle to anyone, never mind Darren," Pimblett said. "I know Darren, he's sound, but I wouldn't play second fiddle to anyone.Whenever we see each other we talk to each other. One of his coaches is the Thai coach in our gym. He's a sound lad, I've talked to him a good few times, I'll always support him and I hope he knocks out whoever he's fighting.
"It's his show. They're going to Liverpool for Darren Till to be main event, so leave his show to him. I'm not fighting on anyone's undercard.
"Obviously Darren deserves credit for bringing the UFC to Liverpool, but I've seen a lot today [of him] getting all the credit. What about me? What about Molly? What about Fishy? What about Lee Chadwick? What about the people who've actually been fighting in that arena, in front of our home city, for the past 18 months? It's quite unfair, the way he's the only one getting any credit."
And just in case you weren't sure if this was just a passing moment of displeasure, Pimblett wanted to reassert his whereabouts on that well anticipated date.
"I'll be honest, I think I've done more to get the UFC to Liverpool by selling out cards in that arena," Pimblett said. "I am not fighting on May 27. … I'm in Mexico, me. Living it up. Feet up, Pina Coladas. I'll be there, me. I won't be fighting in Liverpool."
Comments
comments