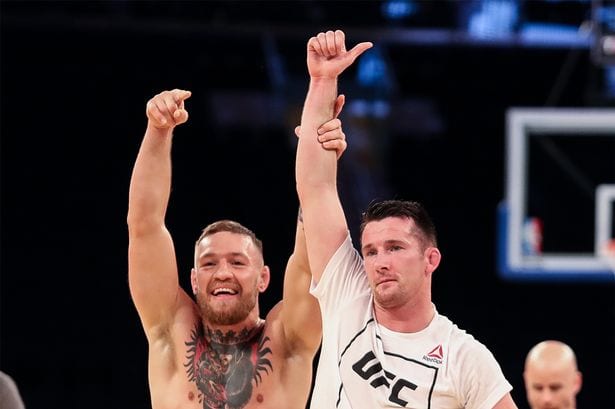 As Khabib Nurmagomedov has risen to the top of the UFC lightweight division, there haven't been many detractors away from praising his obvious grappling ability.
The Russian has manhandled everyone he's faced in the cage, most recently with a pair of maulings over Edson Barboza and Al Iaquinta. But, while Nurmagomedov's performances have been well put together and impressive, the one fight fans are still calling for is a bout with rival Conor McGregor.
Whether it's due to the near-mystic quality McGregor's confidence carries, or the fact it's a fascinating styles match-up, McGregor remains one of the few names in the lightweight division that a bout with Nurmagomedov doesn't already have an easily predictable outcome.
Certainly, it's the fight McGregor's striking coach Owen Roddy believes is the one to take.
"There's been a lot of talk about this Khabib fight," Roddy said, speaking to the BBC MMA Show. "And it seems to be brewing towards this one. … Khabib is doing very well fighting-wise — I see holes in his game — but he's building a big ruckus. He's calling [McGregor] now, and people are getting behind him and it's starting to build to that tipping point. I'm sure we'll see that fight."
If that's the fight to make, then it seems the only question remaining is the location. Last year UFC president Dana White raised eyebrows when he revealed McGregor had pitched the idea of clashing with Nurmagomedov in Russia. According to Roddy, that's definitely an idea McGregor's considering.
"Conor's a mad thing," Roddy said. "Conor turned around to me after the Mayweather fight and said, 'There's talk of me fighting Khabib. I might do it in Russia. We'll do it like Rocky, we'll go to Siberia and we'll train in the snow. I'll get one of those yokes to put on my shoulders and get the lats', and I was crying with laughter. He was serious, dead serious. He does mad things. That's what we love him for. There's not many people who would do that. That would be an exciting fight, but I don't know what's going to happen next. But I would like to see it."
Currently, Nurmagomedov represents one of the unsolved puzzles at 155-pounds. No matter who he's faced, the Dagestani has been able to get his hands on his opponent and drag them to the mat, controlling them on the canvas and landing heavy shots from the top. Despite that apparent unstoppable pressure, Roddy believes he's seen things in Nurmagomedov's game that Team McGregor can exploit.
"At the end of the day, Khabib hasn't finished many fights lately," Roddy said. "Now he always says he does that on purpose, but I don't think so. If you're going to go in and finish somebody, you go in and finish somebody. He says, 'I like punish people for five rounds', I always say, 'If you're going to give Conor McGregor five attempts to land a shot on you..'. So even if he went in and didn't land the first round, or the second, or the third, or the fourth, he still has five attempts to land one shot. I've seen Conor McGregor go in and land within the first thirty seconds of the first round."
Comments
comments