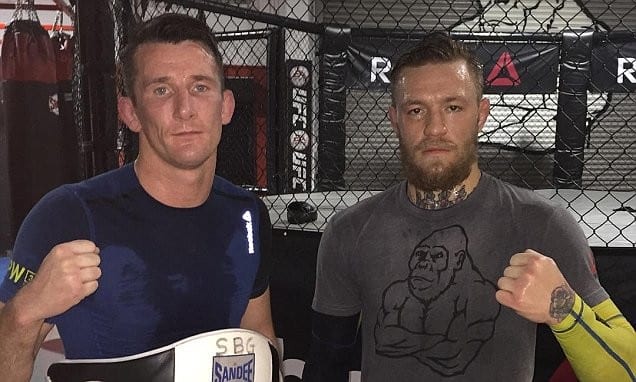 Over the course of the last week or so, there certainly seems to be a feeling of momentum in regards to a Conor McGregor vs. Tony Ferguson bout.
Ever since McGregor's cryptic GTA inspired tweet captioned 'Tony', the amount of intrigue into the contest appears to be on the rise, with UFC president Dana White publicly stating that he believes the fight is the correct one to make.
According to coach Owen Roddy, it's exactly the sort of traction that tends to bring hypotheticals into reality.
"It's exciting," Roddy said, speaking on the Severe MMA podcast "Talking Brawls". "When the word goes out like that, and people start to talk about it, it's usually not far off the deal being done. It could be a good one. Ferguson is the interim champion and rightfully so, he had a good performance against Lee. And he's had a lot of good performances.
"I'd like to see it. People, including myself, were talking about the Diaz fight, but who knows that may come again. But if it's Ferguson, that's going to be a cracker as well. I still see Conor — if they're standing for any sort of extended period, it'll be a quick one and that's it."
Tony pic.twitter.com/IhPaemJP30

— Conor McGregor (@TheNotoriousMMA) October 13, 2017
It's not the first time members of the McGregor camp have said they think the Irishman can defeat Ferguson in fairly fast fashion. Earlier this week, SBG stalwart Artem Lobov also aired his belief that should McGregor meet Ferguson in the cage, proceedings could be brought to a halt fairly quickly.
Ask Roddy, and it's all just a matter of statistics.
"He's just not as tidy as Conor," Roddy said. "You play the percentages, and Conor's the cleaner, more refined striker. Ferguson is tough, he's unorthodox, but in my opinion Conor's just the superior striker.
"You got to give it to Ferguson, he's tricky on the ground and he's got some nice submissions and stuff. But if it was to go to the ground and Conor keeps it simple, and doesn't get caught up in any of that crazy stuff [he'll be fine]."
Most pundits point to Ferguson's ground game as the area he could potentially find success. Trained by Eddie Bravo, the founder of 10th Planet jiu-jitsu, Ferguson has recently become a blackbelt in the style, with a number of submission wins to his name.
Not that Roddy is too nervous.
"It's a great style," Roddy said of Bravo's system. "It's great if you're getting caught up in that guard, because you don't know it. But I think if you've got very good fundamentals, it makes it very difficult for you to get anything off in 10th planet. I think some of it as well is a little bit attribute based. you need to be really, really flexible to play that rubber guard stuff.
"But if you go in there lazy and you don't know that game, you can be caught out very quick — But that wont be the case if Conor does go and meet Ferguson. We have a lot of guys in the gym that play that 10th planet style, watching Tony seeing what he likes to use, and having answers and options if that occurs."
As of yet, the fight remains in the world of speculation. While Dana White has said he wants to try and have McGregor fight before the end of the year, he's also revealed that he's yet to have those fight making discussions as of yet.
With December 30th already booked for UFC 219 in Las Vegas, that could well be the targeted date, although McGregor has previously mentioned he'd only agree to a quick return if the promotional duties were lowered.
For Roddy, it's just a matter of being told when and where, and then it's game on.
"If Conor wants to go at the end of the year, then we go straight into camp," Roddy said. "He came back training last week, and got a couple of sessions in. He's back in the gym, after the whole whirlwind. I think it'd be great to let him get back training and enjoy training and take it from there. But at the end of the day, whatever happens happens. If we go into camp tomorrow, we go into camp tomorrow and that's it."
Either way, Roddy's as excited as you to see it happen.
"It's an exciting fight isn't it?" he said. "[Ferguson] definitely brings problems, and people are asking for it, and that's the most important thing. Money talks at the end of the day, and whatever makes the most money is what both people would go for. But because people are asking for it and posting about it, that's starting to generate the momentum that they needed to get that big fight. It'll be a good fight. It'll definitely be a good fight."
Comments
comments