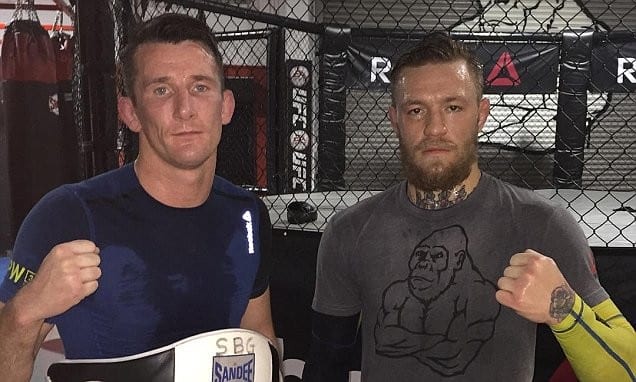 There has been plenty of doubt towards Conor McGregor's ability throughout his career. Whether it was back in his early UFC career against Dustin Poirier, or against the wrestling ability of Chad Mendes or against the man undefeated for a decade Jose Aldo, McGregor has faced plenty of skepticism.
It's of course well known by this point that the doubt McGregor gets fuels him on to prove people wrong, but many wonder if the Mayweather challenge remains too great, even for Mystic Mac. Not so, says his coach Owen Roddy.
Instead, it's just another opportunity to show people how wrong they are.
"It's a tall task," Roddy said, speaking on The MMA Hour. "But if anybody could do it, Conor can. He shocks the world every time. Every time he fights he's doubted, people are like, 'You cant do this, you cant do that. — We know what Conor is capable of. Conor does it every time.
"I don't really want to get into details on what we're looking to do," Roddy said. "But, I mean, nobody is perfect. Nobody is perfect. [Mayweather's] unbelievable defensively. He's pound-for-pound one of the greatest.. but everybody has holes. Everybody makes mistakes. Everybody has predictable patterns that they do over and over again."
Roddy has been the striking coach for McGregor ever since he came into the sport, honing him into one of the most elite stand up fighters in mixed martial arts. And it's because of that time spent together, that Roddy sees no other alternative conclusion than a McGregor victory.
"Conor has an exceptional ability to read fighters," Roddy said. "Read fighters and where they're going and read what they do. He can do it really, really quickly. I think it's just about him figuring out where Mayweather is gonna be on said shot and then putting the appropriate shots to catch him.
"Conor hits like a middleweight. You can ask any of the middleweights in our gym. He hits as hard, if not harder. It's strange. He's got cat-like reflexes. He's so quick on his slips and his pulls. He's very accurate as well. I think he's gonna slip and fire and Mayweather will be on wobbly legs. It might be a counter, too. That's what I see. That's what I see in my head."
Comments
comments