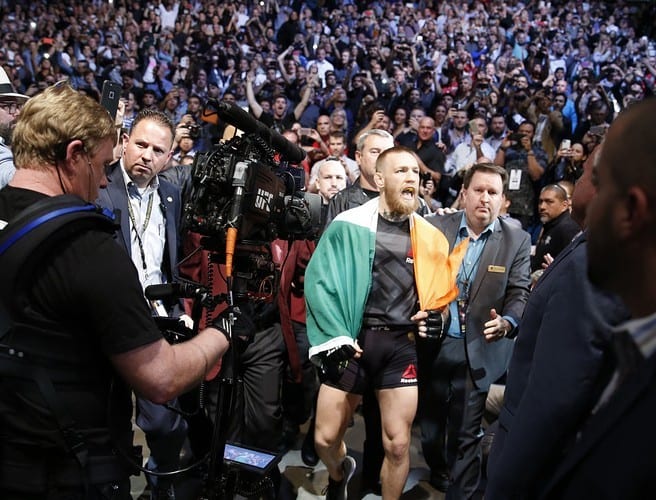 While talking to Ariel Helwani on The MMA Hour Conor McGregor's manager Audie Attar revealed that McGregor's apparel deal with Reebok has lapsed, and the double champion can negotiate with different apparel brands heading into the biggest fight of his career.
It adds another level of revenue to the already considerable payday McGregor is expected to earn from his August 26 boxing match. And according to Attar — while Reebok remains a brand in the discussion — McGregor is already listening to offers from multiple clothing corporations.
"We let a lot of our deals lapse, so there's a lot of open categories that we've been negotiating from different brands — including Reebok," Attar said, speaking on The MMA Hour. "So we'll see how that all plays out.
"He's currently a free agent in relation to athletic apparel, yes. We're still in discussions with Reebok as well as other brands, so we'll see how that all plays out. … If he signs with Nike, he can wear Nike for this fight. That's accurate."
It's a remarkable situation. The contest between Mayweather and McGregor has the potential to be the biggest event in combat sports history, and a spectacle rivalling any in sports. With paydays for both men said to be around $100 million, McGregor's ability to negotiate new sponsorship deals for fight night will no doubt be an exceptionally lucrative opportunity for the Irishman.
"It's definitely a great opportunity to have any brand that we decide to align with," Attar said.
—
Comments
comments