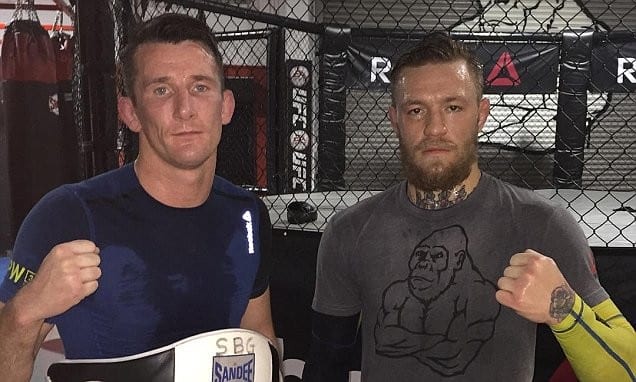 With Conor McGregor's next bout cemented for October 6, he and his coaches John Kavanagh and Owen Roddy are back into camp to put together a game plan to defeat the unbeaten Russian Khabib Nurmagomedov.
McGregor has been out of the cage since late 2016, and will not have fought in mixed martial arts for nearly be two calendar years by fight night. Because of that, some are speculating on ring rust and the effect that will have on the Irishman's ability to compete.
But despite that absence, fans should have no fear, Coach Roddy says, McGregor hasn't been wasting his time away.
"He's in good shape," Roddy said, speaking on the Ariel Helwani MMA Show. "He's always training and always improving. He never stops training. The Conor McGregor you're going to see on October 6 is definitely going to be twice the fighter he was in previous fights. Most definitly. He's in good nick, and at the moment now we're just starting to tailor a game plan and put a game plan specific to Khabib together.
"Now it's time to really fine tune the game plan, and fine tune what we expect from Khabib and create some solutions."
As far as what that game plan is, Roddy wasn't willing to share with host Ariel Helwani, but it's no secret as to what McGregor's ultimate weapon is — the notorious left hand shot thrown with sniper like precision.
"[Khabib]'s definitely never fought a striker like Conor McGregor," Roddy said. "And if all those other [opponents] can land shots on him, most definitely Conor can land on him. And 99% of the time, Conor sleeps people when he lands on them.
"I definitely think Conor's going to land on him. Most definitely. And it's just whether or not he's going to be standing after those shots. And I always say, I've said it in every single fight, either you're asleep or it's only a matter of time before he lands again and then you're asleep."
–
Comments
comments