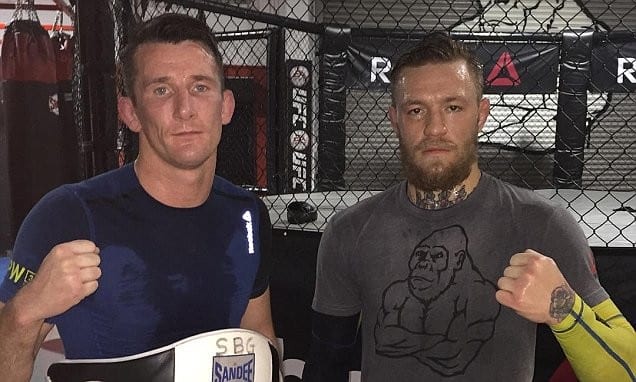 Owen Roddy says Conor McGregor is looking like the elite level fighter fans know him as in training ahead of his rematch with Dustin Poirier.
Roddy is currently in camp with McGregor as preparation ramps up ahead of the return on January 23. According to him, despite a frustrating year of forced inactivity for McGregor, the Irishman is looking as sharp as ever. Maybe even more so.
"Honest to god, just a fucking stone-cold killer," Roddy said, speaking on The Bash podcast. "… He's in the best shape I've ever seen him in my entire life. The [McGregor Fast team] are just working tirelessly … He's like a very finely tuned machine. You can see it.
"… He looks phenomenal. He's in a good place, he's in a happy place. I just can't wait to see him to it again, it's going to be a great fight with him and Poirier."
The first time McGregor and Poirier met, it was as young up-and-coming fighters with much to prove. McGregor won that contest without much trouble, knocking the American out in the first round — just as he'd predicted he would.
While Poirier has since gone on to improve and become one of the best in the world, Roddy still believes that gap in in talent and skill remains.
"I think Poirier has improved an awful lot since that first fight," Roddy said. "I think Conor has improved more since then. They're definitely two better fighters than when they first met, but I still think Conor is just the better fight. He's too precise. Poirier, his skills have definitely improved. His hands are very good, he's tough, he's durable and he sets a good pace, but I just don't see where he beats Conor. I don't see it. Conor's just too good everywhere. Too precise, too clinical with his striking."
Comments
comments