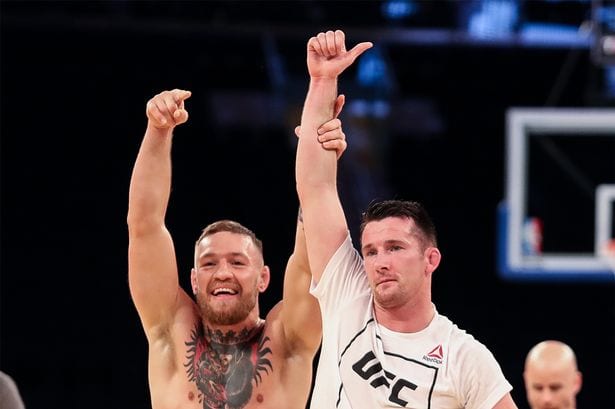 A second fight between Max Holloway and Conor McGregor might be becoming one of the most anticipated hypothetical contests in mixed martial arts.
The pair met a few years ago as up and coming featherweights, before both moving on to championship success. Recently, the duo have been throwing verbal shots at each other through social media, giving fans the idea that a second fight could potentially be on the horizon one day.
Most will recall that McGregor won the first clash — something that coach Owen Roddy believes would be repeated.
"I think Conor would probably put Max away," Roddy said, speaking on Submission Radio. "I think Max would probably be way more confident in his ability, and if you go in there a little bit overconfident with Conor you're gonna go to sleep. Whereas, he was a little bit more… he stood back in the first fight — and obviously Conor injured himself, he couldn't put him away — but yeah, I think it would be a great fight.
"Max has done, he's done so well since the Conor fight. He's been on a tear, and even John Kavanagh said it back in the day, he called that Max would have been the next champion after that fight with Conor. You could see it in Max, and I think everyone sees it. He's a great fighter, but I think Conor's on another level compared to him as well."
Holloway and McGregor were actually linked recently, when the Hawaiian had to pull out of a fight with Frankie Edgar at UFC 222, only for McGregor to offer to step up and fight Edgar himself. While the UFC didn't make the bout, Roddy believes the Irishman's interest in fighting on short notice proves he's back in the swing of things.
"I got the call off Conor almost a little under a month out, just kind of out of the blue, 'oh yeah, look, Holloway's out of the fight, they're looking for a replacement to fight Frankie so I'm up for it, I'm thinking of doing it'," Roddy said.
"'So I was like, 'well, alright, let's see what the craic is,' and we went in and he sparred," Roddy said. "He hadn't sparred too hard in a while, so like went in and had a good, tough spar with one of the guys similar to Frankie's size, similar style and stuff like that, and then looked amazing. And he's like, 'yeah, what do you think?' I was like, 'you look fresh. You know what to expect from Frankie, you're not going to get anything like, his stand-up before in the past, you know, all his career, the kind of style of fighter he is, you know what you're gonna get with him and you look great.'
"So yeah, he's like, 'look, I'm gonna reach out and see what we can do.' He got back the next day saying that the fight's gone, that the fight was unavailable now. So yeah. But he was up for it and he was ready to go. And you know, he was putting it in as well. Conor's been training up here, so he's got the bug again which is great, but unfortunately that one didn't come to pass."
Comments
comments