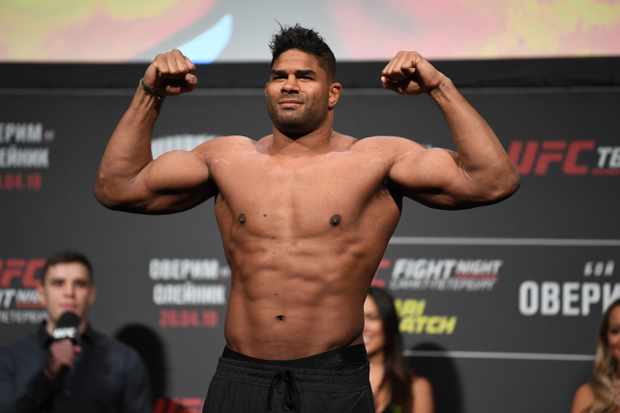 Dutch icon Alistair Overeem isn't quite ready to walk off into the sunset. 
The veteran fighter and multiple time world champion, 42, has been absent from the cage for more than a year after losing to Alexander Volkov in what proved to be the end of his 20-fight, ten year UFC career. He signed for GLORY kickboxing soon after but a trilogy fight with fellow legend Badr Hari fell apart (the score is currently 1-1) after Overeem picked up a persistent back injury.
He has since made a move into professional wrestling in a bid to keep the competitive juices flowing to some extent but speaking to Ariel Helwani on The MMA Hour this week, Overeem detailed his desire to take on at least one more MMA fight — and he knows who he would like it to come against.
"Absolutely not [done with MMA]," he said, via MMA Fighting. "Might do one more [fight] or maybe two. Might be one. We'll see what comes about but the calendar's booked. We've got the Badr [Hari fight] and then we've got Rico [Verhoeven] after potentially so that will be next year and then we'll see.
"If all goes well in October, Overeem would ideally like to rebook the matchup with Verhoeven in early 2023 but the time will come when he takes another MMA fight before hanging up his gloves for good."
And his ideal opponent? Another legendary veteran of the sport.
"Respect to Fedor," Overeem said. "He hasn't fought in a couple of years. I've been working on my compassion lately and I think challenging a man who has not fought for several years, I don't really think that's a good thing to do.
"[Fedor Emelianenko is] not a fight I would particularly look for and even the Badr fight, in the beginning not a fight I would look for but the closer it gets, the more it becomes a thing," Overeem explained. "I'm actually getting really enthusiastic about it. It could actually also happen with the Fedor fight. Initially, not something I would really look for but I don't know. The hype kinds of speeds up, people start talking and it's like this is pretty cool actually. Let's go."
Comments
comments