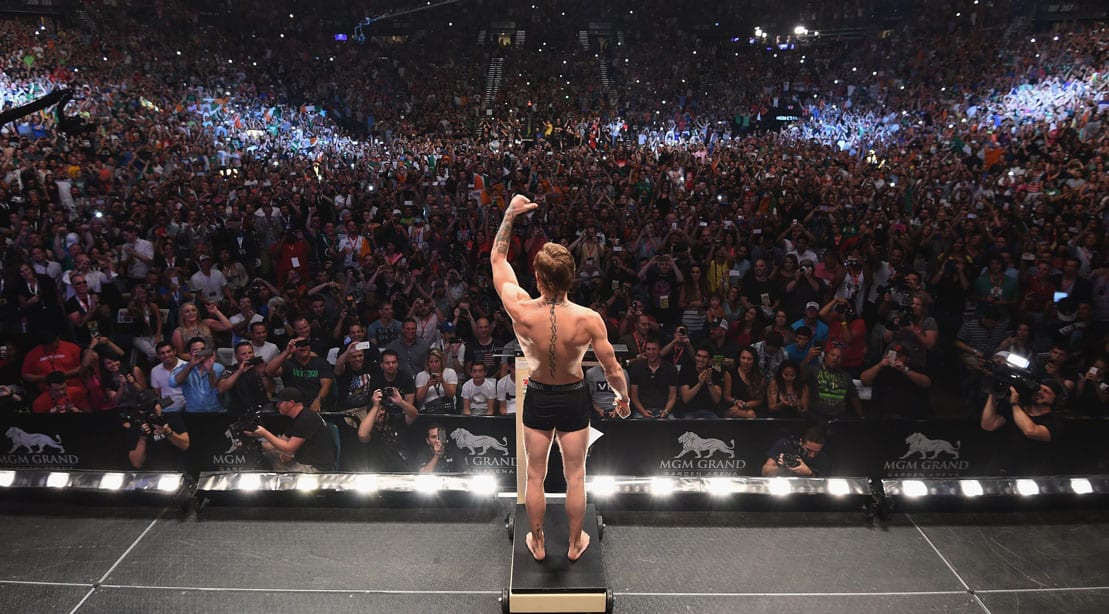 According to Golden Boy promoter Oscar De La Hoya, Conor McGregor is a good enough fighter and has enough star power to command a mega bucks deal with a streaming service similar to the one his fighter Canelo Alvarez just agreed with DAZN.
Last month Alvarez agreed a deal with DAZN to fight 11 times for a minimum of $365 million. The move means DAZN have one of the biggest stars in world boxing while Alvarez gets guaranteed money instead of having to rely on pay-per-view numbers. And according to De La Hoya, who was a part of the negotiations, Alvarez' move shows the potential for fighters when they reach the free agency.
Especially if you're a name like Conor McGregor.
"That's the beauty of being free agents," De La Hoya said, speaking on MMAFighting's The MMA Hour. "If you have somebody behind you who's looking out for your best interests individually, absolutely — why not? There's guys out there who are phenomenal, phenomenal fighters. That can have those types of deal. You take a look at Conor McGregor or you take a look at these fighters who are big, household names. Imagine if Conor McGregor was an independent contractor. He can easily get a deal like that on a DAZN or an ESPN+, but obviously they're with UFC and UFC just works differently."
There are downsides, however.
De La Hoya believes that as streaming services become more and more prevalent, the span of combat sports could get so wide that lower card fighters could struggle to make as big an impact as they could if the traditional networks remained in control.
"As it moves into the age of streaming, it could be very dangerous for a fighter who's not known," De La Hoya said. "For the fighter who the fan doesn't recognize. Yeah, you can get buried on all these different platforms. I strongly feel that we still need linear TV in order to identity these young fighters, in order to build these young fighters into household names. You still need that linear TV, but these deals are incredible, what's taking place with ESPN+, with DAZN.
"Somebody like Canelo, who is probably the biggest star globally in boxing, is gonna be OK on DAZN's platform, because Canelo moves the needle. DAZN forked over tons of money, because they know Canelo can bring in thousands and hundreds of thousands of subscribers for them, which means big business for DAZN.
"I think we still need linear TV, but we are moving toward the digital platform and that's where it's heading, especially with the younger generation not wanting to be told what to watch, where to watch, when to watch it. They want to watch it on their cell phones, they want to watch it on their tablets. I think that Canelo Alvarez is a guy that can fight anywhere he wants to and people will watch."
–
Comments
comments