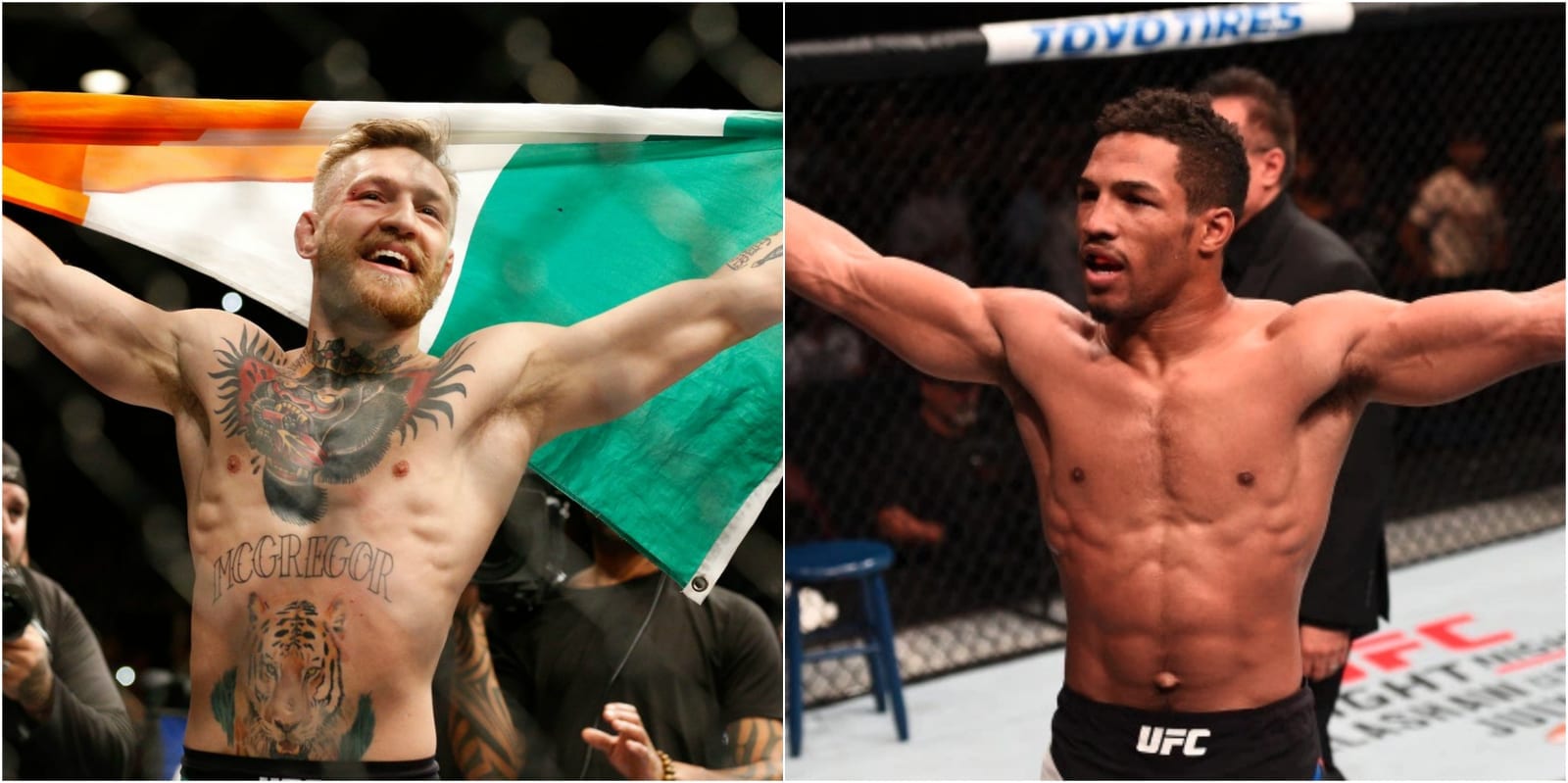 Ahead of UFC 216 on Saturday night, Kevin Lee looked as if he was nearing the capture of the biggest prize in mixed martial arts — a fight with Conor McGregor.
Yes, it's both him and his opponent Tony Ferguson who are up for the UFC interim lightweight title. But at this stage in McGregor's career, where the Irishman has seemingly overtaken Floyd Mayweather's role as the 'money man' in combat sports, there's a certain 'X factor' that's required in order to peak his interest.
Undoubtedly Ferguson possesses unique qualities that no other lightweight can compete with — an unparalleled winning streak, for instance — but so far El Cucuy's insistence on being an oddball has him turning down all opportunities to issue a challenge to McGregor in the same way Nate Diaz once did. If Ferguson wins in tonight's main event, for instance, you can almost guarantee he'll avoid taking the microphone and saying the lightweight champion's name.
With Lee there are no such fears.
The 25-year old has shown, if nothing else, a keen eye for the media game in this sport. Almost entirely over the course of UFC 216's fight week, the Vegas import has turned public opinion around, changing fan comments from 'flashy' and 'cocky' to 'entertaining' and 'star in the making'. Yes, there might be an argument to be made that Lee's new found popularity stems from the sheer void of star power currently on the UFC's landscape, but the popularity is there regardless.
After all of his exploits, and based on everything we've seen of Lee so far, there's no doubts that he would — just as Diaz did before him — make the most of his time in the spotlight with a victory.
And yet, it might not matter anymore.
At a question and answer event in Glasgow, McGregor spoke about the number of options he had awaiting him on his return to the Octagon. While he listed both Ferguson and Lee as potential suitors, there was a feeling of reluctance to commit.
After all, he said, in recent times there always seems to be one thing or another to mess up well made plans.
"I'm happy they're fighting," McGregor said of them both. "This is what I wanted because they're all bums at the end of the day make no mistake about that. I'm just happy they're fighting. I just want to see them compete. Too many of them pull out right at the wire and we're still not at this fight yet, so I'm just going to pray that this one goes ahead. Of course Nate is still there waiting, but he'll be left waiting until we figure something out.
"I'm just going to put a few options out there and see what bounces back. It's got to excite me, let me see what these two fools do this weekend. We'll see what the energy is like."
And around 10:59 am Las Vegas time, Friday, that quote ("too many of them pull out right at the wire and we're still not at this fight yet, so I'm just going to pray that this one goes ahead") felt like another freakish Mystic Mac moment.
Hitting the scales at the last possible moment, Lee looked (along with all observers) in shock/horror as the scale read 156-pounds. Despite being granted an extra hour to make the weight (which he did), you have to assume the damage has been done.
Following a career of late notice opponent changes, McGregor's reign at the top has brought with it an interest in fights that he can rely on. Despite his rivalry with Diaz, McGregor often made note of his faith in Stockton showing up to fight.
Labelling someone like Khabib Nurmagomedov a "pull out merchant" isn't just one of his trademark insults, it's a genuine critique of his colleague's repeated failure to make fight night. For McGregor to commit to an opponent — particularly when he's the now the undisputed 'A side' — he wants to know they'll be standing across from him in the cage.
Last week at the Q&A, McGregor stated he was waiting for a fight to 'fall into his lap'. Could Lee's extra pound in Las Vegas have been enough to make him miss the landing?
Comments
comments