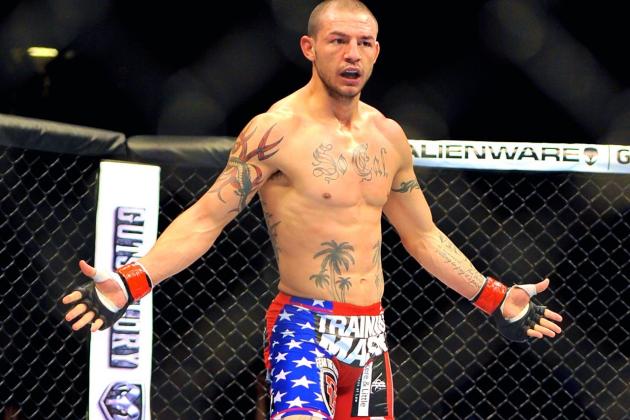 As per a report via ESPN's Brett Okamoto, Cub Swanson's upcoming UFC Fight Night headliner opposite Brian Ortega is the final bout on his current UFC contract.
The fourth ranked fighter in the official featherweight rankings, Swanson has been an active member of the UFC roster since the UFC/WEC merger in 2011 and since then has tallied wins against the likes of Dustin Poirier, Jeremy Stephens and Doo Ho Choi during that time. Despite a 10-3 overall record in the UFC (16-6 overall in UFC/WEC), Swanson has never participated in a championship bout.
Every fighter who has defeated him going back to 2004 has, at one point or another, received a title shot int the WEC or UFC.
A loss in a title eliminator bout to Frankie Edgar in November 2014 hampered Swanson's championship aspirations after he had emerged from an ever-growing list of contenders on the back of a 6-fight win streak. A second defeat on the bounce, this time to Max Holloway, placed him further down the pecking order at 145-pounds. The accompanying broken jaw he suffered in that fight would keep him on the sidelines — and limit his earning potential — for almost exactly a calendar year.
How interesting, then, that the only two fighters who have overcome Swanson in the cage in the last seven years are the two who will fight to contest divisional gold in December.
Whether or not Swanson merits a title shot is open for debate but with his fight resumé, as well as the incredibly exciting nature of his bouts, few fans or pundits would begrudge him the opportunity. However, there is one often overlooked element to these types of stories.
Cub Swanson hasn't just missed out (for the time being at least) at the opportunity of being champion, he has also missed out on the financial benefits that come with it. There have been no pay-per-view points to swell his fight purse, no 'champion' Reebok apparel on sale in sports stores across the country. He hasn't appeared on the cover of a 'Wheaties' box or represented the UFC at large media events.
"It's a power move," Swanson said to ESPN's Five Rounds of his decision to fight out his contract. "Of course I want to get paid more. The thing people don't understand is that I've got to a point where I'm making good money and it's enough to live on, but it's not retirement money. Not even close.
"I've been doing this for 13 years and I'm in the prime of my career, but at some point it's going to dip off, and I'd like to walk away before I start having really bad performances — with enough money in my account to make smart investments and do the right things. I just want that opportunity."
Swanson will enter the cage against Brian Ortega in December for what will be his fourth UFC main event fight and, judging by his decision to test the free agency market, it will be the most important bout of his UFC career to date. This fight won't be for a gold belt, it will be for the chance of an improved contract or, failing that, a move to another promotion — likely Bellator, who are slowly cultivating a featherweight division of real import.
It is a risky move. Joe Duffy found himself in a similar predicament earlier this year. The Donegal man's UFC contract was on the verge of expiring and rather than accept terms which he felt were beneath his talents, Duffy declined to sign a deal ahead of his last fight with Reza Madadi in March knowing that a loss would severely hamper his negotiations.
Ultimately the Irishman won and was awarded with a new improved UFC contract but it is also worth noting that Duffy was kept on the sidelines for an extended spell while this was underway and will only fight again in November, eight months after the Madadi bout.
Cub Swanson turns 34 in a month and with a young family to support, it is less than ideal to be in a position of contractual volatility such as his. Scott Coker and Bellator would welcome Swanson with open arms to their featherweight fray and will likely sound him out as to becoming the latest defector from the UFC ranks.
And you can't help but feel if that is to happen, the UFC's roster will become that little bit poorer without him.
Comments
comments