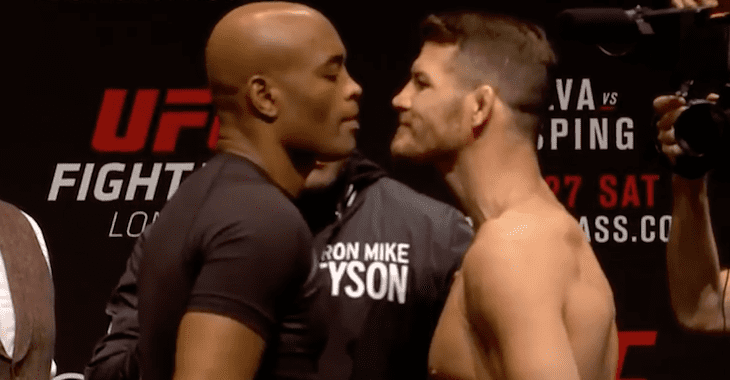 Michael Bisping knows what it takes to eek out a win against Anderson Silva but with 'The Spider' still scoring knockout victories at the ripe old age of 46, Bisping has paid tribute to a fighter he calls one of the best martial artists of all time. 
Silva made light work of fellow UFC veteran Tito Ortiz in a boxing match in Florida, sending Ortiz face-planting to the mat inside the first round en route to his second boxing win in a matter of months after scoring a decision win against Julio Cesar Chavez Jr. earlier this year.
And speaking on his YouTube channel (via MMA Fighting), Bisping lauded Silva's all-time great career after his latest highlight reel KO.
View this post on Instagram
"Anderson Silva is one of the greatest martial artists that the human race has ever seen," said Bisping. "He is a modern-day Bruce Lee. Anderson Silva truly is one of the greatest of all time and that is just a fact.
"Tito said he's gonna go out there and punch a hole in his head and he's a fighter all the rest of it, and he ain't gonna use none of that wing-chun bollocks on him. That is not the way you fight Anderson Silva. You can't go in against Anderson Silva and be aggressive… No way. Anderson Silva's timing is impeccable, his reflexes are cat-like, urban cat-like, and the diversity of attacks that Anderson Silva has is mind-blowing…. Tito should have known coming into this fight against Anderson that you have to be strategic.
"For Anderson Silva to still be doing this, at this level, at 46 years old, after the career that he had in mixed martial arts – we all know the fall from grace that he had, he lost a few fights and then he ended up getting knocked out by Uriah Hall, it looked like it was over, but he really has had a rebirth and as a fan of Anderson Silva, and make no mistake, I'm a fan of Anderson Silva, you have to be. How can you not respect the body of work?
"And also the way that he carries himself? Of course he had the little thing with the steroids and whatnot and you all know my view on that and when I fought him, I let him know my thoughts on that, make no mistake, I punished him for it, I made a fool out of him, I insulted him to the highest degree. But that's water under the bridge, and Saturday night, Anderson Silva looked absolutely fantastic. So well done to Anderson, there's still life in the old dog yet.
"What's next for Anderson Silva? I don't know but every part of my body says that if Jake Paul really wants a tough test, Anderson Silva is your man," Bisping added. "Look no further. You think you've got what it takes and you want to pick off somebody that's not in their prime — Anderson Silva is 46, many knockouts now, he's long in the tooth, a battle-worn veteran — but Anderson silva will give you everything you don't want, so be careful."
Comments
comments