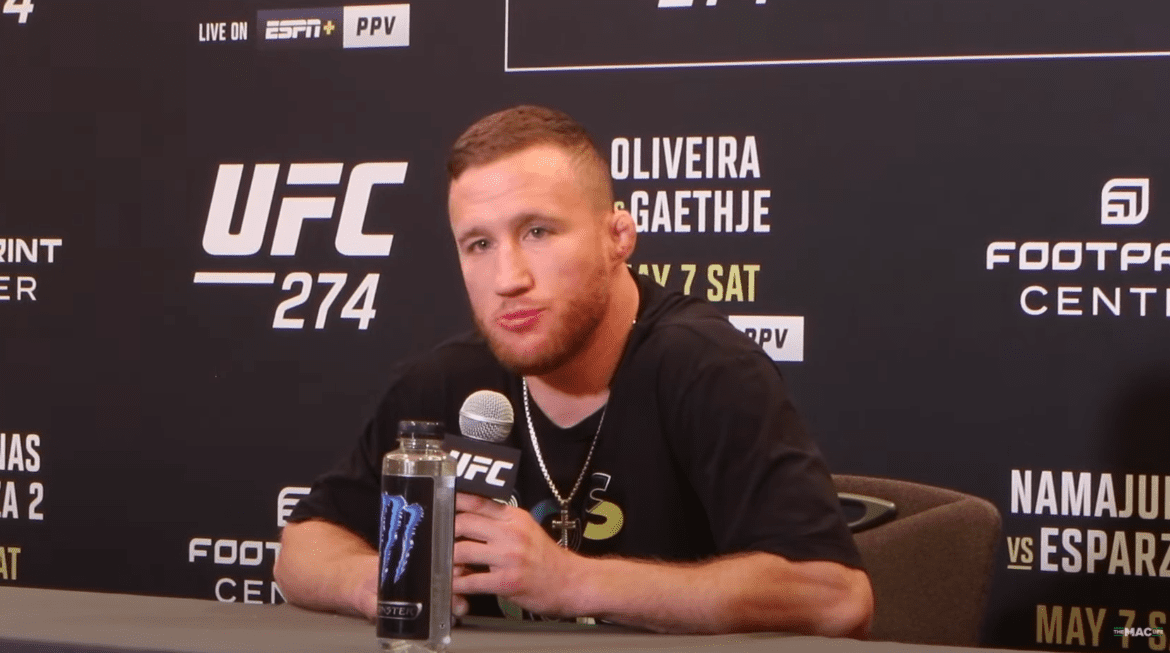 It might seem odd to even suggest that a UFC fighter is a coward, especially one who is a reigning champion in the midst of a 10-fight win streak, but here we are.
Justin Gaethje, the man who challenges Oliveira for the UFC lightweight championship this Saturday night in Phoenix at UFC 274, took aim at the Brazilian during Wednesday's presser ahead of the fight, suggesting that the manner of some of Oliveira's prior defeats in his career remain part of his fighting DNA, and he says that he will give him another opportunity to quit this weekend — and it is up to Oliveira to accept it or not.
"They're definitely not the same athlete," Gaethje said, compared Oliveira to his previous opponent in a title bout, Khabib Nurmagomedov. "And Charles certainly is not more dangerous than Khabib. His ability to take damage is not the same, proven through the times we've seen him fight. All my criticism of Charles is from a kid that we were talking about, that we all watched grow, and now we're talking about a man with confidence. It's a different person but ultimately the same Charles is still there.
"The same Charles that fought Cub Swanson. The same Charles that fought Donald Cerrone. The same Charles that fought Pettis. Choices were made in that by him and the choice to quit was made and I'm going to give him that choice on Saturday night, I guarantee that.
"I think that's true, however, once a coward always a coward," Gaethje added. "I'm not calling him a coward, but I'm saying that's — you can't just take that away. It's there. Khabib never showed you that, and that's why you can't compare those two."
–
Comments
comments