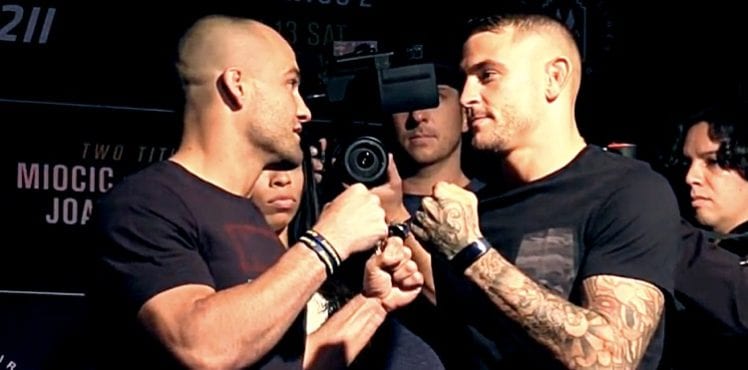 Dustin Poirier believes he has settled his rivalry with Eddie Alvarez but was critical of some of the techniques 'The Underground King' used in their bout in Calgary last weekend.
Alvarez was penalised by referee Marc Goddard for throwing an illegal '12-6′ elbow to the shoulder of Poirier in the second round, which prompted Goddard to stand both fighters back up, relinquishing Alvarez's positional advantage in the process. Poirier won by strikes shortly after the bout recommenced.
Their first bout a year ago was declared a no-contest after Alvarez was found to have thrown an illegal knee and, while Poirier doesn't want to call Alvarez a dirty fighter, he was critical of his opponent's perceived carelessness in the cage.
"I don't want to say somebody's a dirty fighter," Poirier said to the media at the UFC on FOX 30 post-fight press conference, via MMA Fighting. "But the first fight, you kneed me; the second fight, you tried to elbow me illegally and you gave me a wet willy. We've got to draw the line somewhere.
"The weird thing is, when I had him in the guillotine, he stuck his finger in my ear and was pulling me down and the ref warned him," Poirier said. "And he put his finger right back in my ear. So, this is an old dog that knows a lot of tricks."
Poirier also stated that the referee stand-up merely expedited his win, rather than creating the opportunity for it.
"People are always going to point to something, Poirier said. "These checks are going to cash. And I have another win on my record, and another step closer to fighting for the world title. So they can point and say what they want. I'm laughing all the way to the bank and all the way back home to my family with another win that's been earned. Nothing's been given and that's that, man.
"The ref's like, he comes up to me in the corner when he stood us up, he said, 'That's an illegal strike and I'm taking the position away from Eddie.'" Poirier said. "And I mean, it's out of my hands, man. You know? Whether he did it on purpose, but that one didn't hurt me. I let them know, I'm fine, it didn't even land, it landed on my neck or my shoulder."
Comments
comments