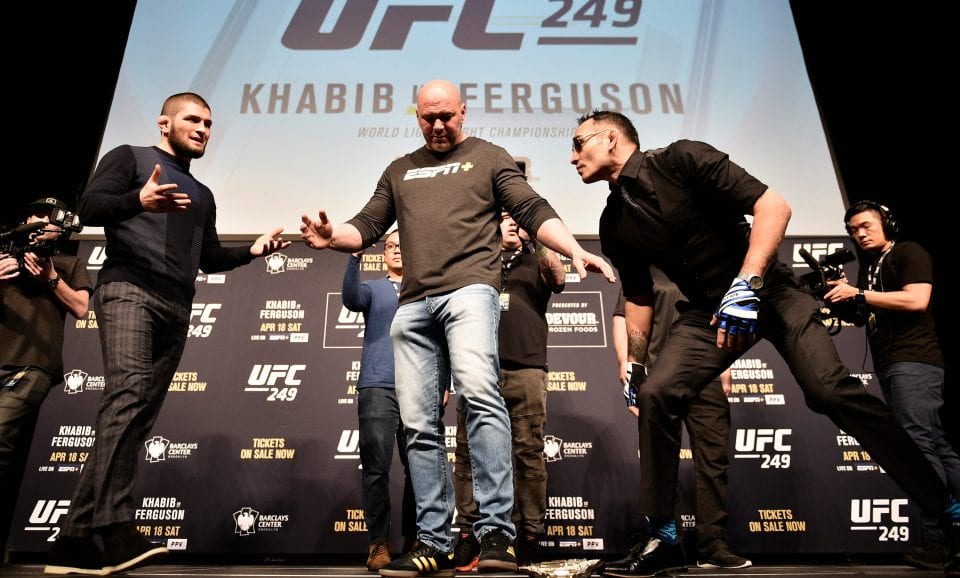 There has been another twist in the tale in the will-they-won't-they UFC 249 headliner between Khabib Nurmagomedov and Tony Ferguson after the Russian Federal Air Transport Agency announced on Wednesday that private flights between Russia and the United States may still take place despite restrictions on travel recently announced by Moscow.
Earlier this week, Nurmagomedov revealed in an Instagram Live video that he was 'stranded' within Russia after the country shut their borders to help mitigate the spread of the novel coronavirus in a move which threw the UFC 249 headliner between he and Ferguson into major doubt. The fight, originally scheduled to take place in New York later this month, remains without a venue (or even host city as of now) as the UFC scrambles to keep the event intact despite the global sporting calendar screeching to a halt in recent weeks due to the spread of the virus.
Nurmagomedov even outlined that the UFC were seeking another opponent for Ferguson, with numerous reports online suggesting that Justin Gaethje had been sounded out as a potential replacement. However, there has been a potential lifeline.
"In order for Khabib to be able to fly to the United States in a private jet, the company whose services he intends to use must obtain permission to fly from Russia and to arrive in the United States," the Federal Air Transport Agency said to local media via translation. "There are no restrictions for business aviation on departure from Russia."
If authorisation is given by the relevant Russian authorities and their US counterparts, this suggests that Nurmagomedov would be granted permission to fly out of the the country.
The restrictions put in the place by Russian authorities could mean that Nurmagomedov may have trouble returning to the Russian capital if he travels to the United States. Moscow's Sheremetyevo Airport is handling the return of Russian citizens to the country from abroad, with the total number of passengers limited to 500 per day. However, the return of people to others areas in Russian Federation is also understood to be possible but limited to just 200 per day.
The restrictions announced by the Russian government came into effect on March 27 and regular flights from Aeroflot Moscow to New York have been removed from the international air schedule with the exception of one, which leaves for the United States on Friday, April 3.
Comments
comments