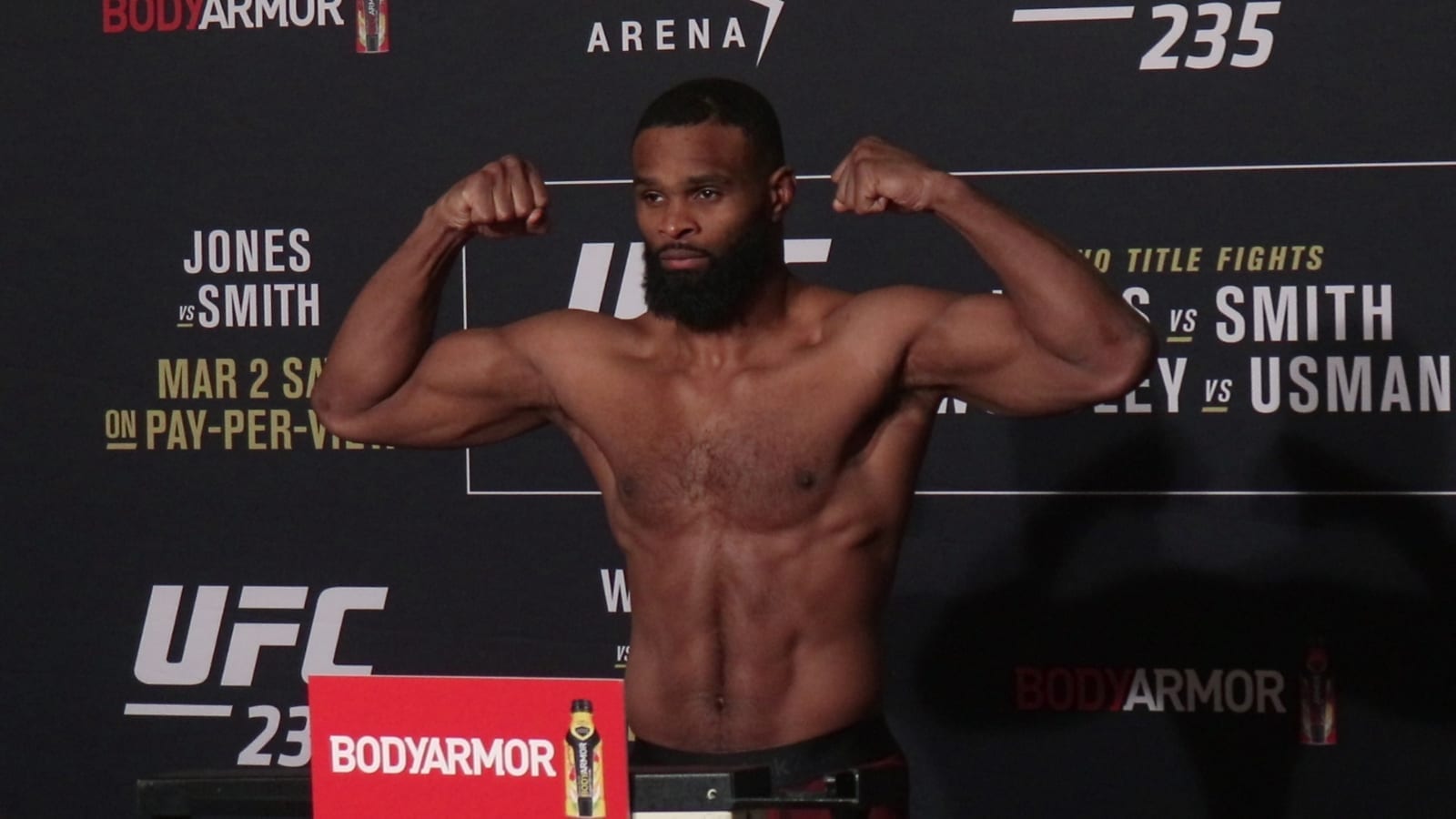 Former UFC welterweight champion Tyron Woodley is sick of hearing Colby Covington's name.
Covington, the brash former interim 170-pound champion, had thrown his hit in the ring to fight Woodley when his UFC London bout with Leon Edwards fell through because of travel restrictions put in place to help stop the spread of the novel coronavirus. Ultimately though, that contest didn't happen as the UFC were forced to cancel events despite efforts to the otherwise.
However, UFC 249 still appears to be a go (despite reports suggesting that the original main event between Khabib Nurmagomedov and Tony Ferguson is off) and Woodley says that if Covington really wants to compete with him, now is the time or never at all.
"This is my last time saying I want to fight Colby," Woodley said during an Instagram Q&A on Tuesday. "If Colby don't fight me this time, I'm moving on. Like think about it, why am I even talking about fighting Colby? He's never won an undisputed title, he's never been a champion. I've won five world titles. I've fought in seven [title fights]. For me to even have his name in my mouth is stupid. This sh*t is mucus. I should just spit it out in the grass.
"But at the end of the day, this is his last opportunity for me to even mention him. If he don't fight me at this time, you're never even going to hear his name, cause it doesn't solidify my legacy to fight him. I just want to beat his ass cause y'all need to see him get whooped."
View this post on Instagram
Woodley, who says their animosity dates back to time spent training in the same facility at American Top Team some years ago, also implied that Covington's 'heel' persona emerged as soon as he saw he could make money from it — regardless of performances in the cage.
"He used one complete year to talk about me," Woodley said. "One year where 99 percent of his handle was me. Cause I text him, (and) I said I gave you your one little moment of shine. If you want to say whatever you want to say, you can do what you've got to do, if that's what you feel you need to do, you don't have to build yourself like that, you're looking stupid. But I ain't gonna reply back.
"He's like, 'Oh man, I'm just trying to build up the fight with us, we both can make money at the finish line,' so he's like trying to get me involved with this sh*t, but I'm like, 'No, I'm cool.' Then he knew I wasn't going to say nothing so he went HAM. The second he won the interim belt, I'm like motherf*cker let's go, let's fight. Now you've got to live up to it. Mute, deactivated his Instagram account for a week. So that's what he is, he's all cap."
Comments
comments