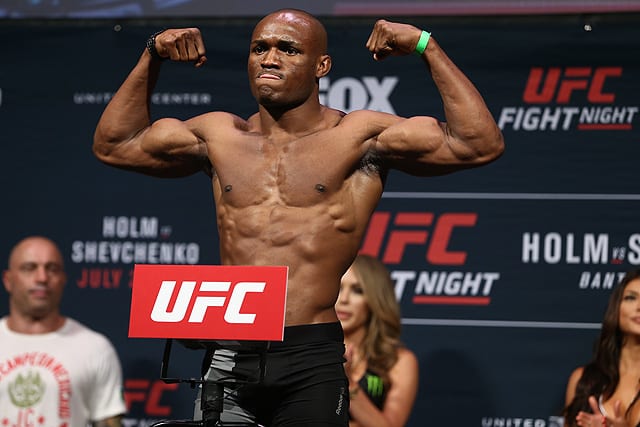 Khamzat Chimaev, the only fighter in the UFC's top five ranked welterweights to have not experienced the pain of defeat, says that Kamaru Usman might well be forever changed after he was knocked unconscious by Leon Edwards at last month's UFC 278 in Salt Lake City, Utah.
Chimaev has been promised a 170-pound title shot if he bypasses UFC veteran Nate Diaz this weekend in Las Vegas but the result of the Usman-Edwards matchup — and the likely trilogy fight which will follow — means that Chimaev may have to wait a while before getting his shot at the gold.
But regardless of who he ends up facing for the world title, Chimaev says that the thunderous high kick which ended Usman's night against Edwards may well leave long-lasting damage.
"It was a crazy fight, good fight," Chimaev said in an interview with ESPN. "I learned a lot of things about that fight. It was funny to watch,  he was too much high up. 'I'm gonna fight with Canelo,' and he got shot. He wasn't focused and he said, 'I'm always focused,' and a lot of things. 'I want to make money.' Leon comes and shot his head, dropped the guy.
"I don't think he'll be the same guy again. In the mind. We've seen a lot of champions thinking, 'Nobody can beat me,' because he defend so many times, 'Now I'm unbeatable,' that kind of thing, and bam, somebody knock you out. Now you know you're human, as well."
And when probed as to what Usman's loss might mean for his own title aspirations Chimaev said that this might be another opportunity for him to move to another weight class, having not competed at middleweight since his UFC debut against John Phillips a couple of summers ago.
"If they want to do it, for me no problem," Chimaev stated. "I'm gonna take some other fight, and we will see what's happening. Maybe Israel Adesanya or the other guy, Alex Pereira. Who wins that, maybe fight with them. I don't know. We'll wait for Dana White after my fight. He said after my last fight maybe we'll fight for the title but it didn't happen."
Comments
comments