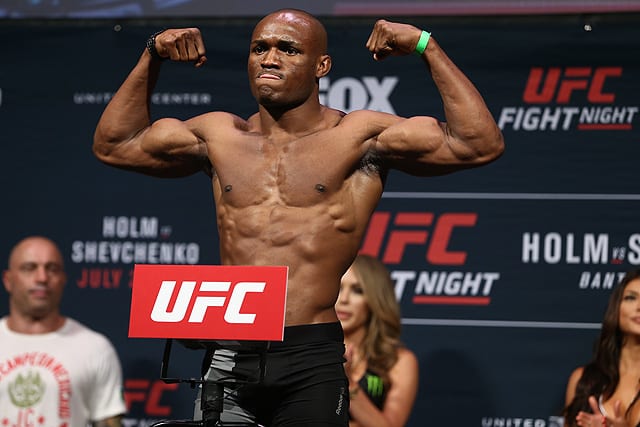 Jorge Masvidal's three stellar wins in 2019 have placed the veteran fighter on the verge of title contention at 170-pounds, as well as placing him in pole position for 'fighter of the year' honours, but the man who holds the championship in his division isn't buying the hype just yet.
Kamaru Usman is scheduled to fight Colby Covington in defence of his welterweight title in a little over a month's time in a fight which both men have clamoured for throughout a prolonged war of words between the two grapplers. When a winner emerges from the that UFC 245 main event, Masvidal makes sense as the presumptive next challenger. There is an in-built narrative to any fight between former 'best friends' Masvidal and Covington but a tussle with Usman is perhaps the more difficult rivalry to sell to an audience.
Nonetheless, Kamaru Usman is doing his best to pick a fight.
"I wouldn't say [I've been] impressed," he told MMA Fighting of Masvidal's recent run of finishes against Darren Till, Ben Askren and Nate Diaz.
"Because it's Masvidal, nothing's changed. He's the same guy. He's fought the same way forever. It's just the luck of the draw. He's getting that luck of the draw."
View this post on Instagram
Indeed, this is a refrain that has been a common one in 2019. Masvidal was the underdog for his fights against Till and Askren — with the latter uttering similar language as to Masvidal's presumed inability to handle the problems that Askren would pose.
"Let's be honest, Darren Till dropped him in the first round of their fight, and let's say if he didn't land that punch [in the second round], how does that fight play out? Had he not landed that knee [against Ben Askren] — and I'm not going to say it's lucky because he drilled that — how does that fight play out? There's a lot of questions to be answered."
"I've yet to see him fight a full-on welterweight from start to finish and completely dominate them. Then at that point I can say this is a different guy. But I think right now he's riding the wave, and he's got the luck of the draw on his side. Ultimately, you can't knock anything that he's done. I think he's done a phenomenal job with the opportunity he's been presented with and he's ran away with it. I'm happy for him on that end."
Being happy for him is one thing, but seeing Masvidal as a threat is another — and it doesn't quite seem like Usman has been 'sold' on Masvidal's successes this year.
"He's riding that hype right now," Usman stated. "That's the thing with guys like Ben Askren, he came in and he really ran his mouth and really got the people riled up. And so when you create that much hype, and you put a guy like Jorge Masvidal in front of him, and let's say [Askren] goes out there and does what he wants to do to Jorge Masvidal, you hear nothing about Jorge Masvidal anymore.
"[Masvidal is] the same guy who wins one or two, then loses one or two. It's still the same guy. Because he landed that knee in such impressive fashion, he stole that hype that Askren was potentially riding. That has a lot to do with where he's at right now.
"He's got a lot of hype right now, and he's been in this sport for a long, long time," Usman said. "But at the end of the day, does it really matter that you have all that hype if you never get to the pinnacle of the sport? I like the fact that that he has all this hype. It brings a lot of eyes. So if he does make it to me and that fight is made, I would actually be very, very interested in that."
Comments
comments