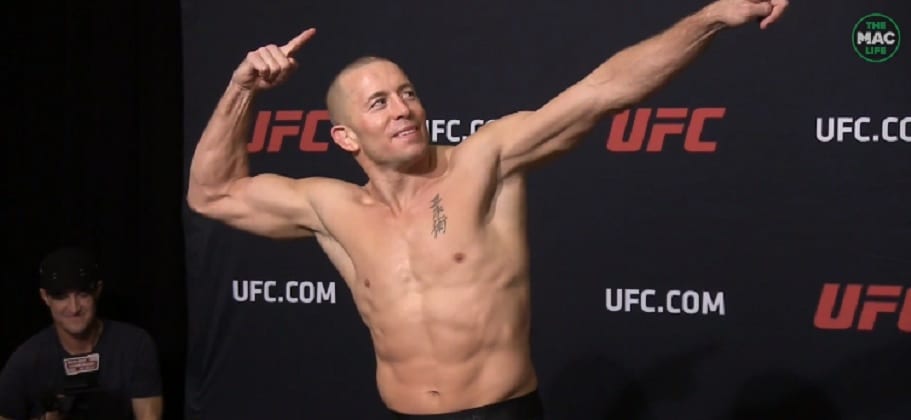 If you were to follow the narrative coming out of the camps of both Georges St-Pierre and Khabib Nurmagomedov, you will know that there was serious interest from both sides in making a matchup between the pair — until recently, that is.
St-Pierre, the former UFC welterweight and middleweight champion, announced his official retirement from mixed martial arts in February in part citing the inability of to secure a bout with the Russian grappler and while this development appeared to irk the future Hall of Famer at one point, he has made peace with the fact that the fight won't happen, as well as saying that the idea of proving himself to be the world's best fighter is no longer a central motivation of his.
"It was on my mind when I retired," St-Pierre said to TSN via MMA Fighting. "I really wanted to do it, but now, telling you the truth, UFC were clear, they had other plans for Khabib so I turned a page. I cannot wait for the fight to happen and twiddle my thumbs. I have other plans for my life. Being the best fighter in the world is not my number one priority anymore. It used to be, now it's not. I have family, friends, I have a lot of more important things to do. I have other projects down the road."
St-Pierre fought just once since taking a hiatus from the sport in 2013 following a punishing welterweight title defence against Johny Hendricks, his successful bid for the 185-pound title against Bisping in Madison Square Garden at UFC 217 but his reign would last just 34 days as he would relinquish the title which would eventually be strapped around the waist of Robert Whittaker.
A battle with a stomach issue was cited as the reason at the time, though GSP says that this ailment is fully healed and the reason for his stepping back from the sport is that he longer has the drive to compete.
"It's not because I can't, it's because I don't want," St-Pierre said. "It's not worth it to dedicate all my focus and concentration to this if I'm not gonna fight and get the fight that I want, you know what I mean? So it's not that I can't do it. I could come back and fight again but my heart is not there. When I train in the gym, I feel very confident. When I train with a young guy, I feel like I want to fight again but then I go back home and sometimes I wake up in the morning and I'm like, ' Ugh, f*ck that.' So it's a mixed up feeling for me now."
There is little doubt that St-Pierre can still effectively compete at a high level, as evidenced by his final career performance against Bisping but if the fire to compete has gone, one can conclude that he is making the correct decision. As has been evidenced on plenty of past occasions, mixed martial arts requires intense focus and is not the type of sport which one can 'half-ass'.
St-Pierre's status in the history books is absolutely assured and goes out from the sport without the spectre of defeat hanging over him — something of a storybook ending to a remarkable career.
Comments
comments