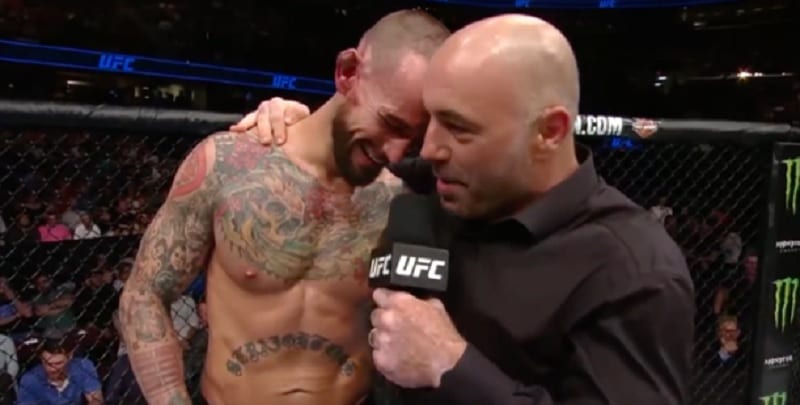 Four years since signing with the UFC, and after countless hours on the mats under the tutelage of Duke Roufus, CM Punk's sophomore professional mixed martial arts bout went very much the way of his first — and Joe Rogan knows exactly why.
Punk is unlikely to ever fit in the UFC again and if he does return to active competition it will likely be several rungs below what he experienced on Saturday night in his hometown of Chicago at UFC 225.
Despite showing grit and heart Punk, whose real name is Phil Brooks, was never in the fight. He was consistently outstruck by Jackson, whose own lack of killer instinct drew the considerable ire of Dana White and, speaking on a recent episode of The Joe Rogan Experience he said that Punk's physical limitation will never allow him to become a top fighter.
"He's a very nice guy and he's a hard worker but he does not have athletic talent. He's missing a lot," Rogan said to guest Joe Shilling. "In WWE they had it scripted so he was 'the man' but when you're in there with a guy like Mike Jackson who had zero fear of him and was so casual, just popping him in the face anytime he wanted to. If he got angry and wanted to stop him, he could have stopped him at any point in the fight.
!The whole thing was very weird. Right away when you see CM Punk holding his hands up and moving stiff and throwing kicks you're like, 'Oh Jesus!' I don't like that being on pay-per-view. I understand that they're selling pay-per-view cards but pay-per-view should be the elite fighters.
"Curtis Blaydes versus Alistair Overeem should have been on that pay-per-view card, that's what should have been there, not what we got to see.
"He doesn't have any talent, any physical talent — that's what it is, for whatever reason. Whether it is his approach, his intensity… It's not his coaching, he's with Duck fucking Roufus."
Comments
comments