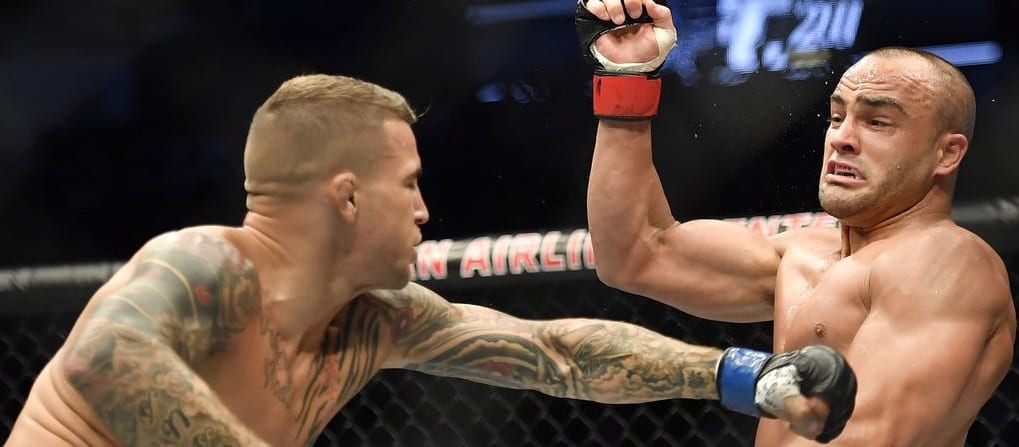 Dustin Poirier's second round knockout of former lightweight champion Eddie Alvarez has ignited title talk of his own but 'The Diamond' says that he is willing to wait on the sidelines until his first shot at UFC gold.
Poirier moved his record to 8-1-1 in the 155-pound fold since losing by first round knockout to Conor McGregor at UFC 178 in September of 2014 in his last featherweight fight. The title picture in the lightweight division is dominated by the rivalry between McGregor and Khabib Nurmagomedov, while Tony Ferguson has also stated his credentials to be considered for gold.
Poirier, though, is content with his handiwork.
"I'm not in a rush. If something makes sense, then let's do it but other than that, I feel like I've earned a title shot," he said to Luke Thomas on The MMA Hour via MMA Fighting.
"I'd love for them to fight and then me fight the winner, beginning of next year if that's possible, but we'll see. This is a crazy, crazy, crazy thing that we do and things are always changing so you never know. That's the only reason I'd come back. At the end of the day, I've been doing this to be a world champion and I feel like I'm the closest I've ever been so for me to do anything else but what I think I've earned, there's gonna need to be money."
Dustin Poirier vs. Tony Ferguson, anyone?
Comments
comments