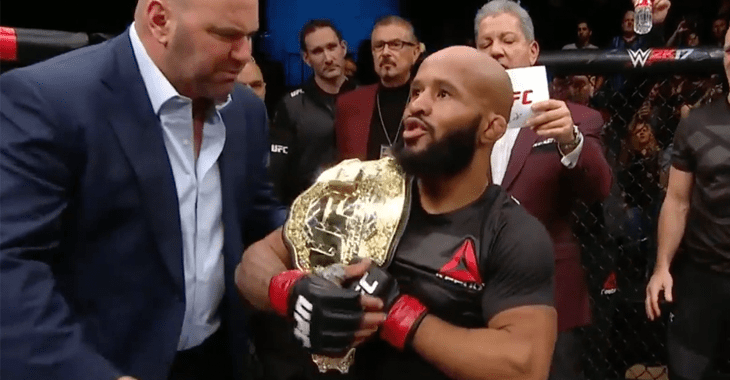 If there is blame to be placed for the falling through of T.J. Dillashaw vs. Demetrious Johnson, 'Mighty Mouse' wants people to realise it can fall somewhere other than at his door.
As UFC 227 approaches — a card that features both men in separate bouts — the conversation about Johnson's seeming reluctance to accept a bout with a bantamweight champion has risen again. Although this time, Johnson wants fans to know: he did actually say yes.
"I accepted the fight, I got injured, I had surgery, and they never offered it to me after I got injured," Johnson said, speaking on the UFC 227 media conference call. "When they offered it to me I accepted, I got injured and got surgery, and then when it came time to fight again, from my understanding, from my management's point of view, T.J. got offered to fight Cody [Garbrandt] with a brand new deal, so God bless him for getting a new deal to fight Cody.
"So the entire lead-up to this fight, even in July, I was never offered to fight T.J. Dillashaw. Before I got injured I was up for fighting him, then they moved on and went with Cody and T.J."
Still, with both Garbrandt and Dillashaw still excited by the prospect of dropping to 125-pounds in an attempt to dethrone Johnson, the right victories on Saturday could still produce a champion vs. champion superfight in the near future.
Just make sure the offer is good enough.
"If the money's right," Johnson said. "I've always been up front about these super fights. Everyone keeps asking me. If the money's not there and the compensation's not there, then I'm going to keep doing what I'm doing. It's obviously up to my management to make that happen. My management knows what I want, the UFC knows what I want and for me, I just show up and fight the No. 1 contender in the flyweight division and will continue to do that until something comes to my table that's appetizing."
–
Comments
comments