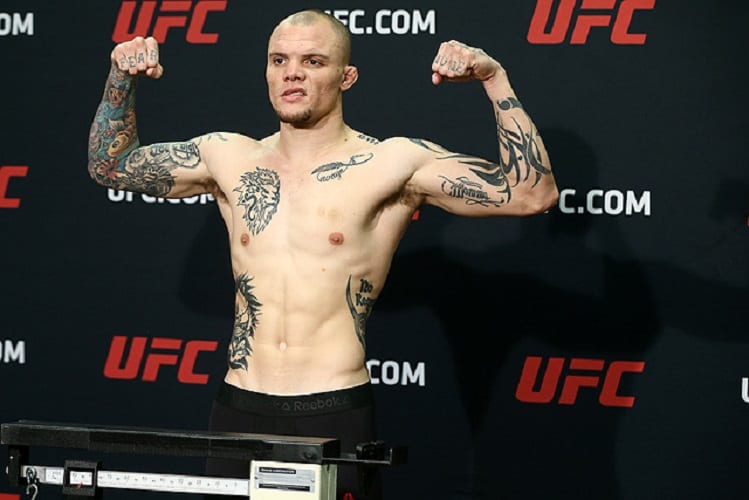 One might think that if you are going to commit a home burglary, you might want to make sure that it isn't done at the property of a former UFC world title contender but this is exactly what happened to Anthony Smith last weekend.
Smith, who was defeated by Jon Jones in a world title bid in 2019, detailed what he described as a 'terrifying' experience in his home in a prolonged physical encounter with the assailant while speaking to ESPN's Ariel Helwani.
"I didn't know what he had," Smith said of the incident. "Typically people don't break into your house in the middle of the night for any good reasons. I'm expecting that I'm gonna hear a gunshot or he's gonna stab me. Like he's got something. I figure I've got about two minutes before whatever he's got takes me out."
Smith said that he first became aware that something was amiss when he was awoken by his wife who told him that there was a man in their home 'screaming at the top of his lungs'.  He soon found the intruder, later identified as Luke Haberman, in his computer room. His wife, Smith said, gathered their children and locked themselves in a bedroom.
A fight soon broke out and Smith recalled how he was alarmed at how aggressive the intruder was.
"No normal human is able to fight like that," Smith said. "I'm by no means the baddest dude on the planet. But he's a regular Joe and I had a hard time dealing with him. And he took everything that I gave him — every punch, every knee, every elbow. He took every single one of them and kept fighting me."
Glad Anthony is OK, no way dude would have left my house walking https://t.co/U6wSr8KmA8

— Jon Bones Jones (@JonnyBones) April 7, 2020
The fight continued for around five minutes before police arrived on the scene. Smith was uninjured but he said that there are bloodstains from the encounter in his family's computer room. The suspect also reportedly apologised to the UFC fighter upon his arrest.
Smith most recently fought in June 2019 where he defeated Alexander Gustafsson by rear-naked choke submission.
Comments
comments