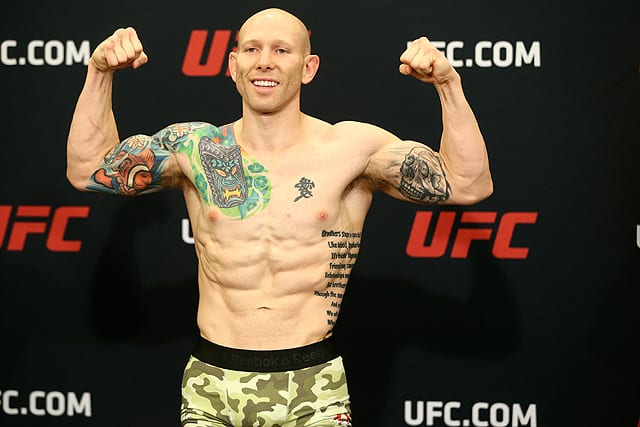 UFC featherweight Josh Emmett remains on the road to recovery following a second round KO defeat to Jeremy Stephens in his first UFC main event in Florida last February.
After landing a controversial knee on Emmett, Stephens finished the fight soon after with a barrage of punches and elbows on the ground. He was informed after the fight in a Florida hospital that he had suffered an orbital fracture in the defeat, though a range of other health concerns were missed by the doctors who treated him.
"The hospital in Orlando didn't misdiagnose me, they just didn't catch a lot of things," Emmett said to Ariel Helwani on The MMA Hour via MMA Fighting.
"They just said I had a tripod fracture, so I assumed that was it. I went home and I think it was the second day that I was home in Sacramento — I was still on all the pain pills and stuff — and my wife just knew there was something wrong."
A second diagnosis revealed a variety of different health concerns and Emmett was sent for emergency surgery.
They did another CT scan because the Orlando regional hospital would not send the CT scan to them or to my doctor. They did the scan and they admitted me right away. I needed emergency surgery. They took me in an ambulance to perform another surgery," he said.
"My lateral orbital was fractured, my orbital wall, my maxillary sinus — that's like my cheek — it was completely encaved. I had my nasal bone fractured and my zygomatic arch was broken as well, with a few other fractures in the face. It was impinging the main muscle in my eye, which was disturbing the movement of my eye. Also, the nerve in my face was being compressed.
"So still even now from the left side [of my face] over, it's still completely numb. I have no feeling in my cheek or upper lip and I had just suffered a severe concussion."
He spent five days in hospital and now remains waiting for news as to when he can resume MMA training.
"I'm still all on this. I'm too close to where I want to be to give it all up. I have a lot of things I can do. I have a lot of connections in the Sacramento area. I can go and get a good job right now, but this is my passion and I'm going to continue to fight as long as I can. This is definitely the worst injury that I've suffered, but there is no quit in me.
"I'm hoping to ease back into things by June. I'll give it another month or so and then try some kind of movement or test out how I'm feeling when I pick up the intensity a little," he said. "Obviously, there will be no impact still. I just got off the phone with the surgeon today because they did another CT scan. They said everything is healing well.
"It's not fully healed yet but they anticipate that I can be back doing some light drills by June, so we'll give it a shot then."
Comments
comments