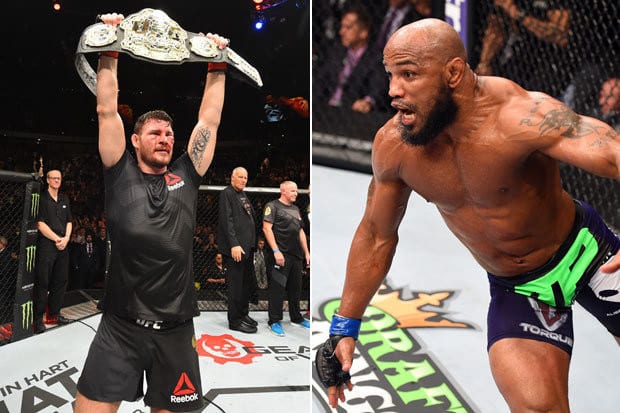 For a while, it seemed as if Michael Bisping and Yoel Romero were on a collision course.
The two middleweights have been linked to each other and publicly challenged each other on a number of occasions over the past couple of years, and often with personal feelings attached (for instance, Bisping famously tore a Cuban flag up at ringside, with Romero responding by treating a British flag with similar disrespect).
But, with Bisping's retirement confirmed, and no real chance of the pair settling their differences in the Octagon, it seems as if Romero is willing to put the rivalry to rest. Speaking on MMAFighting's The MMA Hour, Monday, Romero revealed while he had initially been upset to hear about the Brit's leaving the sport, he has come to terms with the rivalry being over.
"At first when I hear he retired [I was disappointed] a little bit," Romero said. "I was like, 'Why? Why? Why?' but after I think like a human and not like a professional fighter, I say yes [it was good]. Because Michael have many fight. We know he have the problem, he need to think about his family. I say it's good decision. Because when you fight the fans [cheer you], but when you have a family, your family is nervous. It's different. Now you need to think about your family.
"Man, you take the belt," Romero continued. "You have a beautiful performance in your career. I say to people, I [challenged] him because he stay in the top ten in the best organisation for MMA for many years. He stayed in the top ten, and this division, the middleweight division is very hard. And he take the belt, lucky or not lucky, he take the belt. He beat [Luke Rockhold], and he beat many great fighters. It's done. It's time. I think it's time Michael retire because you need to think about your family."
—
Comments
comments