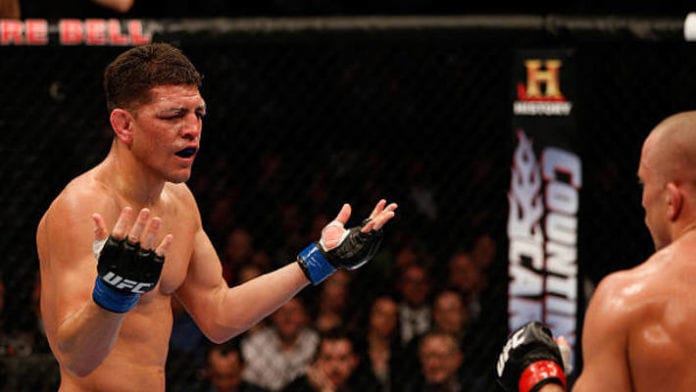 Nick Diaz's 5-year exile from the cage looks set to be coming to a close after his manager, Kevin Mubenga, confirmed that the 37-year-old has returned to training and is eyeing a comeback fight early next year.
Diaz, the former Strikeforce welterweight champion and UFC title challenger, hasn't competed in the cage since a January 2015 fight with Anderson Silva, with many observers presuming that his prolonged absence from competition meant that the was, for all intents and purposes, retired.
Not so, says Mubenga who told ESPN's Ariel Helwani that Diaz now weighs somewhere in the "165-175 pound" range after he completed an intensive 14-week training regimen and is said to be "keeping a close eye on the big welterweight fights coming up."
This is Nick Diaz earlier today. He weighs in the 175-165 pound range, per his manager Kevin Mubenga.
He just completed a 14-week diet and training regimen. This is the first time he cuts weight in approximately four years, Mubenga said. Diaz wanted to do a test cut because … pic.twitter.com/5A8EvyLeUn

— Ariel Helwani (@arielhelwani) September 7, 2020
 Per Helwani, Diaz completed the rigorous training regime for the purpose of returning to active competition, as well as doing a 'test' weight cut — the first time he has cut weight in approximately four years, per Mubenga.
Diaz, whose career record is 26-9 (2), last won in the Octagon in 2011 when he thoroughly outworked former lightweight champion B.J. Penn through three rounds in Las Vegas as UFC 137 but came up short in subsequent contests with Georges St-Pierre (for the UFC welterweight title) and Carlos Condit.
He was linked with a return in 2019 and appeared close at one point to a fight with Jorge Masvidal but negotiations didn't develop, with Masvidal eventually facing Diaz's younger brother Nate.
This time, though, there appears to a renewed vigour in the Stockton native's intentions to compete one again and, all going well, it could come in the next three to four months.
Comments
comments