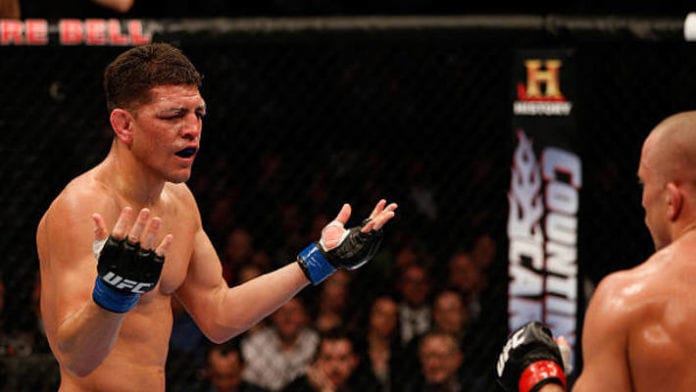 It may be more than six years since Nick Diaz last competed in the Octagon but ahead of his rumoured 2021 return to the cage, the Stockton native appears to be in fine shape.
Diaz's management stoked speculation of a UFC return last year when they announced that Diaz had completed a test weight-cut and had been in intense training ahead of a comeback — but, so far at least, nothing concrete has been revealed regarding the former Strikeforce welterweight champion.
However, judging by another recently-released training picture, the elder of the two Diaz brothers appears to be in pristine condition.
View this post on Instagram
"The general is well some y'all gossiping hoes out there need to quit that n chill,' read the accompanying message on the BBJ Recovery209 Instagram page.  "Nick Diaz is locked out of his social network. Not active in his social network due to that matter..
YALL lames needs to stop praying for Nick Diaz downfall.. He has a couple of people on his "PEOPLE TO KILL " list for his ufc return. Thank you for all your concerns for my brother. He is living a life better than most of us….. we are currently working to get Nick back on line #wardiaz Diaz army stay ready. When he calls it's war."
Diaz's last win in the cage came almost a decade ago when he outpointed BJ Penn through three rounds at UFC 137 in October 2011. Since then, he lost two straight (in world title fights) against both Georges St-Pierre and Carlos Condit.
His final fight to date came against Anderson Silva, a bout which was subsequently declared as a no-contest after both men failed post-fight drug tests (Diaz's was for marijuana). The fight was originally scored as a decision win for Silva.
Comments
comments