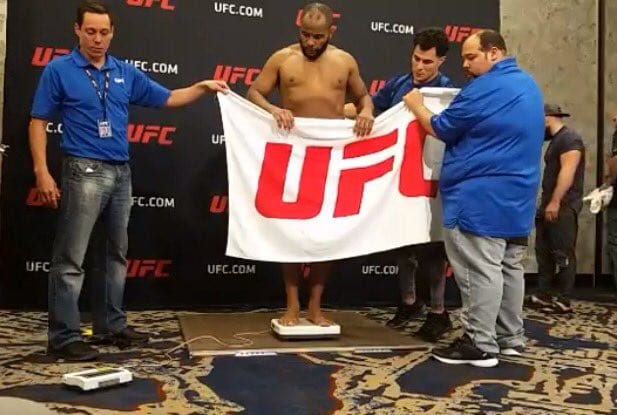 Following the huge controversy ahead of UFC 210, where UFC light heavyweight champion Daniel Cormier appeared to use a towel (designed to aid his decency) as a leverage aid to make weight, the New York State Athletic Commission have introduced changes to their weigh-in rules.
Namely, you can't hold a towel anymore.
The new rule now states (as reported by MMAFighting) that: "The scale on which the combatants will be weighed at the official weigh-in will be available to the combatants for at least one hour prior to the official weigh-in. When on the scale, the combatant shall stand still with his or her feet flat upon the scale and shall not make physical contact with any person or object other than the scale. No other person shall touch the scale when a combatant is in the act of weighing in. While on the scale, the combatant shall follow any direction issued by the Commission." (Emphasis mine).
The rule change, while a fair reaction to an issue that caused quite a stir, does offer a potentially interesting side effect.
Following UFC 210, Cormier's opponent Anthony Johnson announced he intended to file an official appeal, claiming that Cormier never made weight fairly. While Johnson never aimed to overturn the fight result, had Cormier officially missed weight, 20% of his $600,000 fight fee would have automatically been given to Johnson himself.
"Anthony's rights were violated," Abdelaziz said, speaking with ESPN.com in the days following the event. "We will go through the proper legal channels to fix this. Everybody saw what happened. How do you lose 1.2 pounds in two minutes?
"We don't want to take anything away from [Cormier], he earned that win," Abdelaziz said. "But [Cormier] needs to give up 20 percent of his purse to Anthony. He had two extra hours to cut the weight and I think he probably would have made it — but as it happened, I don't think he made weight."
While it's perhaps unlikely, the sudden rule change does seem to insinuate that the NYSAC feels something needed to be done to avoid any further problems in the future — making Johnson's concerns feel somewhat validated.
Comments
comments