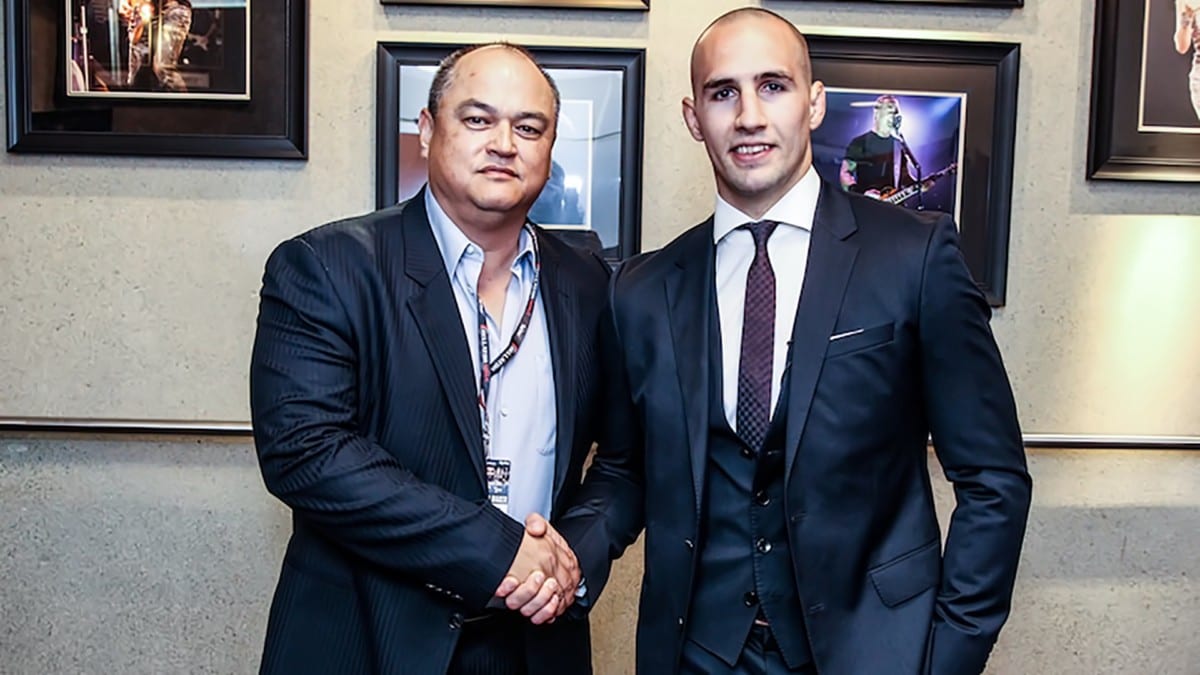 If anyone needed a reminder as to the unique skills that Rory MacDonald brings with him into the cage, you needn't have looked further than his Bellator debut in London last weekend against Paul 'Semtex' Daley.
'The Red King' was flawless throughout the near seven minutes the fight lasted, shutting down Daley's much vaunted striking game on the feet before taking the fight to the floor on several occasions to display his grappling dominance.
The relative ease with which he dispatched Daley, one of the most dangerous fighters at 170-pounds in the world, underlined MacDonald's vow that the UFC would regret allowing his contract to lapse. This is especially notable when you consider that MacDonald holds wins over current UFC champion Tyron Woodley and his #1 contender Demian Maia from his time with Zuffa.
With Bellator welterweight champion Douglas Lima set to face the recently-arrived Lorenz Larkin at Bellator's bumper event in New York in June, MacDonald is contemplating his next move. A title shot against the winner in New York is practically guaranteed after his showing against Daley but, with uncertainty as to when that might take place depending on what happens in Madison Square Garden, MacDonald is casting glances towards the rest of Bellator's big names — and it doesn't matter what division they compete in.
"I want to be a champion, a two-division champion if I can," MacDonald said to the press in London, as reported by Champions.co.
"Outside of that, I want the big fights. If I can fight the legendary fighters that are around and in Bellator then sign me up. I think they will be fan friendly fights. A young up and coming champions fighting legends—I think that sells. Fedor, Wanderlei, those are big guys and I think fans would want to see that."
Fedor Emelianenko and Wanderlei Silva, unanimously heralded as legends of mixed martial arts, are both set to compete on Bellator's New York card in June, so that rules them out of facing MacDonald in the short to medium term but with the Canadian saying in the build-up to the Daley fight that he's the best fighter in any weight class in the world, he seems intent on proving that.
MacDonald has always come from a purist's background when it comes to mixed martial arts and, in particular, it's rule set. The 27-year-old has said on multiple occasions that he favours the introduction of knees on the ground and even head-butting, so a move to the Jurassic era of MMA when weight classes hadn't yet been implemented also seems to be something that MacDonald backs.
"The train is ready to keep rolling," MacDonald continued. "I've got some momentum now and I'm ready to take fights all the time. Bellator are very clear because I'm on them all the time, [I want] future fights, here, here, and here. Whether it's weight classes up and whenever possible you know. I'm always bugging them and they know what's up."
With it yet to be resolved who he will be fighting, you can rest assured that you will likely see the next chapter of Rory MacDonald's Bellator career before too long.
Comments
comments