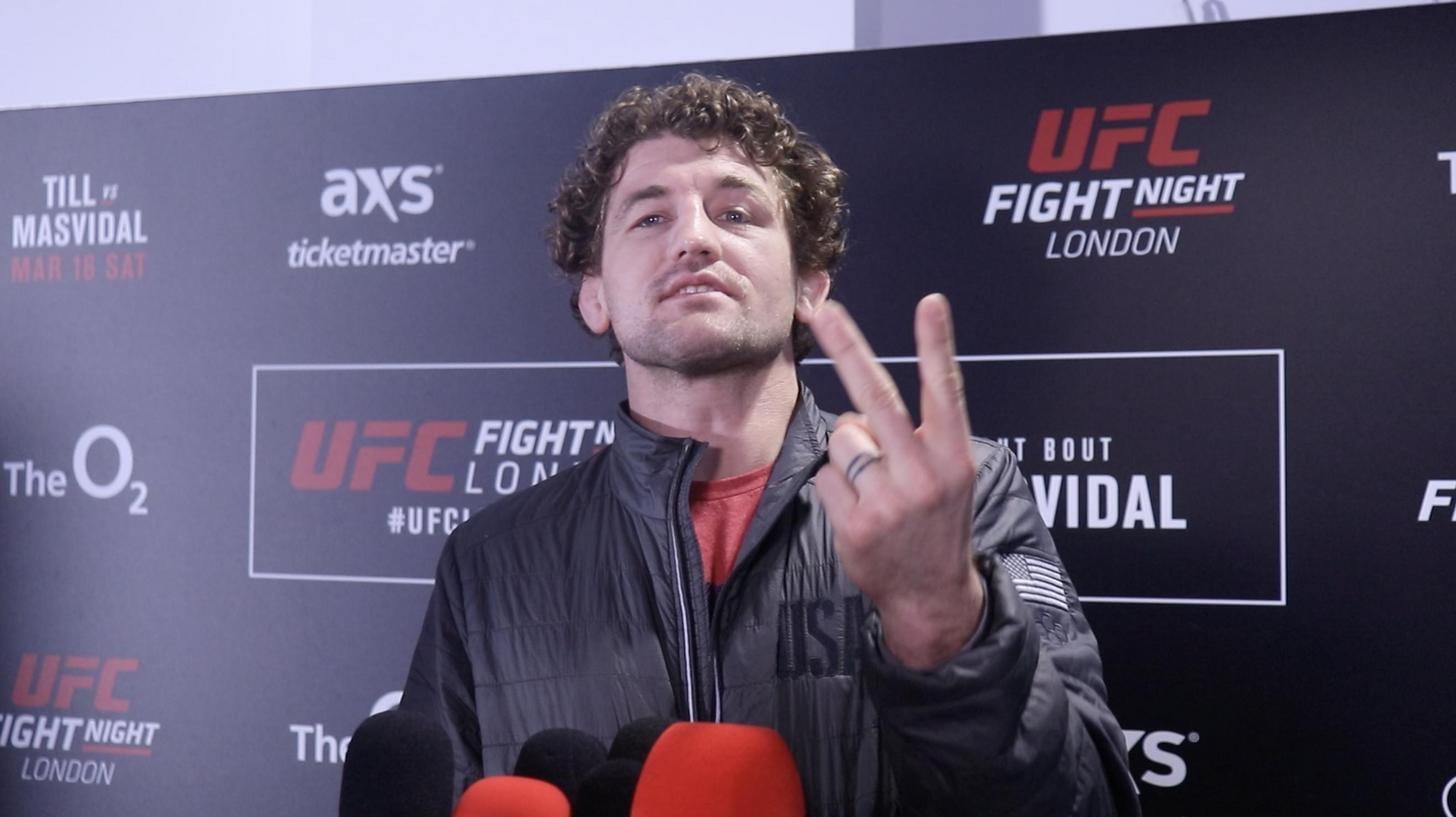 As we have often noted in the past, combat sports retirements are often very, very temporary in nature.
The latest fighter to flirt with the idea of making a comeback after previously hanging up the gloves is Ben Askren who stepped away from the game a year ago after suffering his second successive career loss, this one to Demian Maia. Askren has, of course, already come out of retirement once before but that decision wasn't made with his injury status in mind.
Now, though, as he told MMA Fighting's Mike Heck, he sees himself in a different athletic state than he was when he stepped away last year.
"It does not feel like that long ago," Askren said of his last fight. "The whole last couple of years seems like a blur—from the un-retirement, to the retirement, to the fighting again—and then this year, 2020 for everybody has been pretty wild with everything going on."
After initially fearing that he requiring a full hip replacement, Askren undertook another procedure, and he says it has been a resounding success.
"It's called a Birmingham hip," he said. "What they do is get it all cleaned up, they cap the top of it, clean up the inside, put something on the inside, but yeah. I'm pain-free but there was a whole bunch of other things: I knew a bunch of pain on my one side, and my range of motion was tied to my hip issue, but I had all kinds of back problems.
"The day after the surgery, it was just gone. It was wild. I wasn't anticipating that. I just thought I had a bad back because I wrestled my whole life, and the morning after my surgery I woke up and my back pain was gone. I thought maybe it was because I was on pain pills, but it just never came back."
View this post on Instagram
For Askren, any firm decision on making an MMA comeback hasn't yet been fully appraised — but he certainly isn't ruling it out.
"I would say, never say never," Askren said. "I think it's unlikely, but I'm gonna wrestle next year. Not WWE wrestle, but real wrestle. I need a reason to train and stay in shape. I love eating ice cream and everything else. I haven't got on a scale in a year. I haven't gotten on a scale since I fought Demian Maia over a year ago.
"If I don't have a good reason to get on the scale, I'm not getting on the scale and I know that ain't great for my health. I'm not super obese, but I'm definitely not in great shape right now and I can't really train. I can ride a bike right now, that's about all I can do with my hip but give me a few more months and I'll be able to start getting on the mat. I'll be able to start lightly doing some stuff.
"I'm definitely going to try and get some wrestling matches next year just so I can have a reason to stay in shape and I'm at the wrestling academy five days a week anyways so it won't change that much.
"And that's one of the reasons I was excited about this specific surgery because if you do the full hip replacement, you don't do sh*t. You can't run, you can't wrestle, you can't grapple, you're out on everything. With the surgery that I got, I should be able to be full go after a year."
Comments
comments