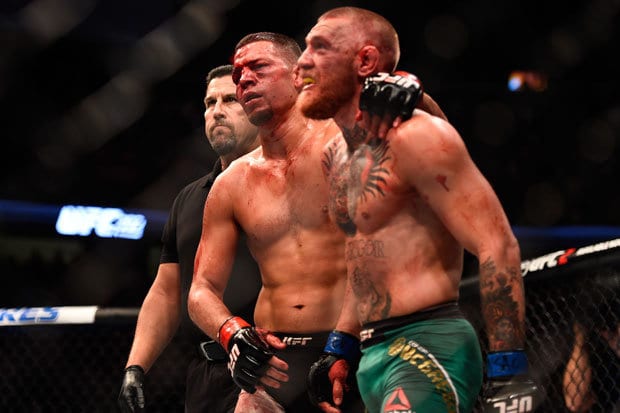 Nate Diaz hasn't fought in the UFC since losing a unanimous decision to Conor McGregor in the main event of UFC 202 in August of last year. Despite several attempts to instigate a return, UFC matchmakers have been knocked back at every turn. Diaz is reportedly looking for $15 million to consider a new bout agreement, a figure which would dwarf any payment received by a UFC fighter to date.
"Nate Diaz turned down a fight with everybody on the roster," White said of the former lightweight title contender.
"We've been offering him fights for (a long time). When was the last time he fought? A year-and-a-half-ago? For a year-and-a-half, we've been offering him fights. As a promoter, we have to offer him fights. Because we're supposed to give him three fights a year. So we continuously offer him fights and he continuously turns them down."
So, with that said, it's beginning to look like Diaz's athletic future might take place outside of the UFC — the promotion which has served as his home since debuting with the organisation more than a decade ago — and according to Bob Bennett of the Nevada Athletic Commission, they would be happy to grant Diaz a boxing licence to compete within their state.
"I don't think he's requested a boxing licence, to date," NAC executive director Bennett said to Express Sport. "But from what I know of Nate and who he spars with, I believe he may have been a sparring partner at some point in time with Andre Ward, he and Nick.
"So, if he applied, I would see no reason why we wouldn't license him. We would be happy to licence him and we hope that he can fight in our state as well, 'The Fight Capital of the World.'"
Diaz is hailed as one of the better boxers on the UFC roster and has trained extensively with former pound for pound great Andre Ward. To date, Conor McGregor is the only high profile member of the UFC roster to be granted a boxing licence in Nevada. Bennett, when awarding McGregor the licence, cited McGregor's boxing display in his victory against Diaz as evidence of the Irishman's boxing nous.
Comments
comments