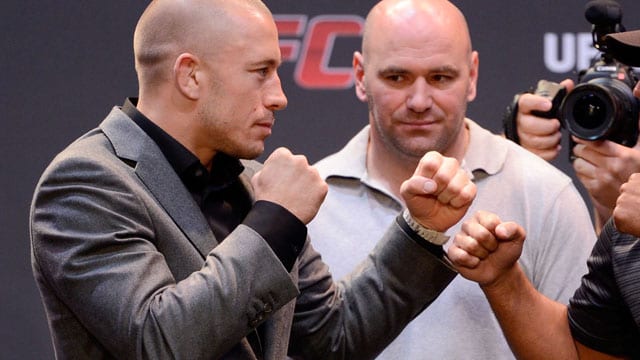 A few days before UFC 218, UFC president Dana White pledged that he would be "super pissed" if Georges St-Pierre announced an intention to vacate his middleweight title.
A week later, and although it was through illness as opposed to a general apprehension of competing, St-Pierre revealed he would be giving up the 185-belt, and was unsure when he'd return to the cage. Whittaker was promoted from interim champion to lineal champion, and is set to face Luke Rockhold at UFC 221.
And amazingly, White's not pissed.
"I thought I would be, but I'm not. I expected it," White said, speaking to the media after UFC Fresno on Saturday. "Listen, I had him sign a contract that said he would defend against Whittaker for a reason. Because I knew he wouldn't.
"At the end of the day, there's a reason I put that stuff in the contract for him to sign. Am I shocked? I don't think anybody's shocked. He came out, and he hand-picked Bisping and went away again. So, whatever. It is what it is."
St-Pierre's next move is uncertain. Diagnosed with a bout of colitis, St-Pierre's previous intentions of fighting again fairly quickly appear to have been dashed. Some now believe that, with the expectation of middleweight being removed, St-Pierre will look to move back down to 170-pounds, the division he originally made his name at.
Dana White isn't convinced.
"He doesn't want to fight anybody at welterweight," White said. "That's why he fought Bisping. He didn't want to fight Woodley. He didn't want to fight 'Wonderboy' Thompson. He didn't want to fight any of those guys. He only wanted to fight Michael Bisping. He did, and now he's off again."
Comments
comments