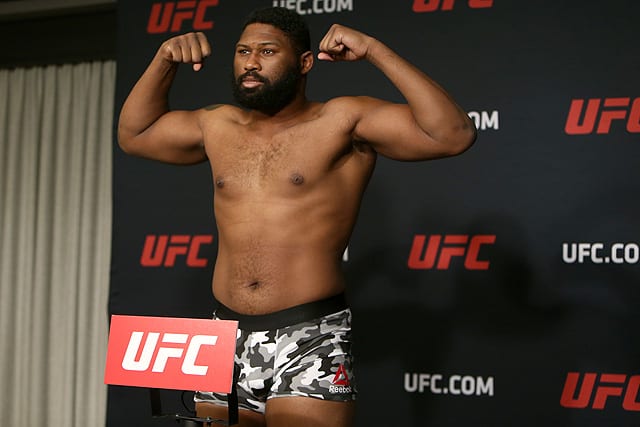 If it wasn't for Daniel Cormier's ambition of being a two-division UFC champion, there is a realistic scenario which states that Curtis 'Razor' Blaydes would have already received his shot at the belt previously owned by Stipe Miocic.
Of course, mixed martial arts is a fast-moving game. Cormier, the light heavyweight champion, assumed the spot of number one contender, bypassing the likes of Blaydes in the process, and defeated Miocic by first round knockout to claim his own slice of UFC history.
And now, with Cormier widely-speculated to defend his new title in a colossal bout with Brock Lesnar early next year, Blaydes suggests that the time is right for him to square off with former champion Miocic.
"I don't feel like it's my right to tell another athlete, let alone another man, how he should feel about a situation, but if it were me, he has a legitimate claim for the rematch [against Cormier], but I also have a legitimate claim for a title shot now. It is what it is," Blaydes said via MMA Fighting.
"Neither one of us is going to get that title shot this year. We've still got five months left in the year. I don't want to wait that long. I want to get another one in before the holidays start.
"The UFC, they're behind it, because like I said, it makes sense. It's a good matchup, it would be a good fight. He's good, I'm good, we're both good wrestlers. My hands have gotten a lot better. I want to showcase the skills I've been developing, and I just think, because I live here in the Denver area, I live 15 minutes away from downtown Denver, so I feel like it'll help me grow a fanbase here.
"This is where I live now. I don't know how Stipe sees the callout … but I'm hoping he's really considering it. Really, for him, it's either he fights me or he waits until April. I mean, that's a long wait.
"I want to make my argument for a title shot stronger," Blaydes continued. "And that's what Stipe does."
The addition of Lesnar to the UFC's heavyweight fold might be good business for the WME's coffers, but it remains to be seen if it will benefit the division as a whole. A drug suspension hanging over Lesnar since his last appearance at UFC 200 opposite Mark Hunt two years ago means that he ineligibility to compete sooner than early next year is essentially miring the heavyweight division in quicksand, a scenario which Blaydes sees as being less than ideal.
"I hate it. It just slows down our positions, slows down progress, because the ultimate goal is to get to the title, and it's like, it's already [decided]," Blaydes said.
"I thought the purpose of us fighting is to prove who gets the title shot, and then Brock Lesnar, who hasn't fought in two years and hasn't had a legitimate win in eight years, because even when he beat Mark Hunt, that win was negated because he tested positive, so a guy like him who jumps in off the strength of his popularity — and don't get me wrong, I know he's very popular, just like CM Punk is very popular. That doesn't mean he's good. That's not what that means.
That said, all with all the pieces in place, Blaydes says he has a good idea of how he would like the immediate future of his mixed martial arts career to progress.
"The perfect next 12 months is me getting the Stipe fight in November," Blaydes said. "Me winning. DC, he fights Brock, let's say January. We give DC a few months, he'll enjoy the win, then me and DC square off. I beat DC. Then, one of my roommates brought this up because of the whole Brock Lesnar thing, he says maybe Jon Jones pops back up and then maybe me and Jon Jones square off. Everyone is talking about the money fight — Jon Jones is the money fight. He's legit, a true warrior, a true badass."
Comments
comments