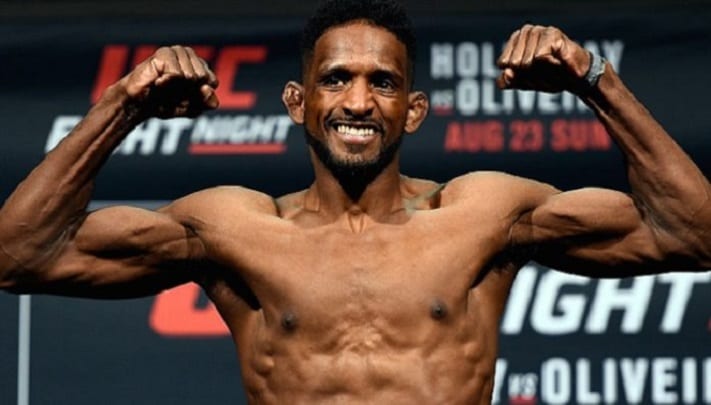 Ireland's Ian Machado Garry's next Octagon assignment is set after it was confirmed that the unbeaten welterweight rising star will tackle the tough Geoff Neal at UFC 292 in Boston later this summer.
Before that was set, though, the Dubliner made clear that there was an experienced name at 170-pounds that he was eager to test himself against: Neil Magny. The American, a ten-year veteran of the UFC roster, has battled practically every welterweight on the roster in his 30 fights with the organisation — and as such, he said that he was not surprised to hear his name being uttered by the 25-year-old Irishman.
"It's definitely a call out that's worth entertaining," Magny said last week prior to his split decision win against Philip Rowe at the UFC event in Jacksonville, Florida on Saturday.  "I mean, the guy is currently, I believe, ranked in the top 15. I believe he's undefeated in the UFC, as well. It's a matchup that definitely intrigues me.
"I've been called out by literally every single fighter in the top 15 right now at some point or another," Magny added. "But them actually following through and saying, 'Oh yeah, that's a fight we really want.' That rarely ever happens.
"It's easy to look at the number behind the name and say, 'Hey, I want to fight this guy,' and know the willingness that I'm going to say yes to whomever it is. It is surprising that was the callout at all, but is it something they really want at the end of the day? I highly doubt it."
Speaking following his first-round knockout win against Daniel Rodriguez in May, Garry outlined a plan to take on several contenders at 170-pounds before getting what he believes is an inevitable title shot so as to shut down any accusations that he is being 'fast-tracked' towards a world title.
At the time of the callout, Magny was unavailable because of his booking to fight Rowe — but the UFC matchmakers apparently opted to offer Garry an opportunity a few rungs up the welterweight ladder with a bout against the #8 ranked Neal. A win there, and the top five surely beckons.
Comments
comments