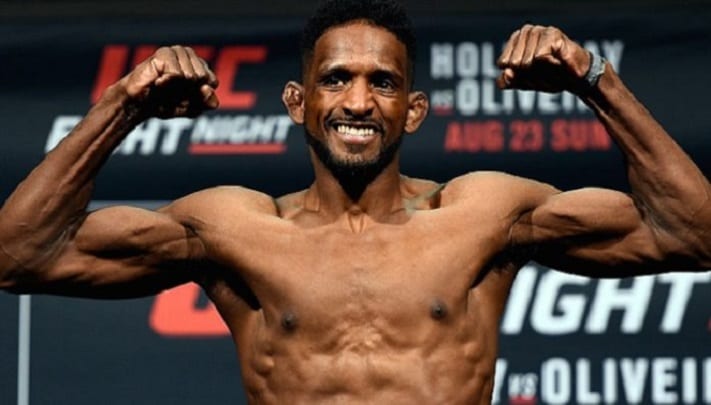 Neil Magny has taken umbrage with comments made by rising welterweight star Khamzat Chimaev — and promises he'll do something about it when he sees him.
Magny noticed Chimaev had made a sarcastic congratulations to him and Michael Chiesa after their recent performances on Fight Island. Magny, it would seem, found the remarks irritating.
Taking to his own social media, Magny promised the rapid riser he would hold him to task whenever they cross paths next.
"Where was this energy a few months (ago) when you had opportunity to fight me?" Magny wrote. "I don't hand pick opponents like you do, I've fought the best guys in the UFC for the 8 years. Something you know nothing about. … Make sure you keep that same energy when you see me in person! I'll give you my word, that I'm slaaping [sic] you on sight and teaching some respect!"
I don't hand pick opponents like you do, I've fought the best guys in the UFC for the 8 years. Something you know nothing about.

— Neil Magny (@NeilMagny) February 2, 2021
You finally found pair of balls now huh!

— Neil Magny (@NeilMagny) February 2, 2021
Where was this energy a few months when you had opportunity to fight me?

— Neil Magny (@NeilMagny) February 2, 2021
Make sure you keep that same energy when you see me in person! I'll give you my word, that I'm slaaping you on sight 👋 and teaching some respect!

— Neil Magny (@NeilMagny) February 2, 2021
–
Comments
comments