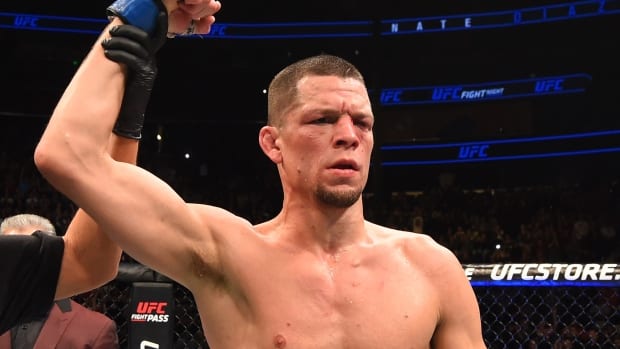 Nate Diaz is back, and he's making history.
The Stockton star will return to action at UFC 262 against Leon Edwards, and will be involved in the first five-round co-main event in UFC history. It marks Diaz' first fight since UFC 244 in 2019, where his match with Jorge Masvidal was stopped due to a brutal cut over his eye. The scrap was first reported by Ariel Helwani.
There had been some suggestion Diaz would be moving back to lightweight after comments made by UFC president Dana White, but Diaz had been steadfast in his belief that his days at 155-pounds were over. Edwards was just seen in his own return bout after a year and half absence, where his bout with Belal Muhammad was ruled a no-contest after a brutal eye poke left Muhammad unable to continue.
Despite his defeat to Masvidal, Diaz remains one of the most popular fighters in the sport. Upon the fight becoming public knowledge, he took to his social media, writing: "Check me out may 15th I'll be headlining #ufc262 in Houston Texas I'll also have the new UFC lightweight title fight on the card I need people to know these guys are they've been working very hard and I can't wait to see who gets my old 👑 I'll see uguys there"
Check me out may 15th I'll be headlining #ufc262 in Houston Texas I'll also have the new UFC lightweight title fight on the card I need people to know these guys are they've been working very hard and I can't wait to see who gets my old 👑 I'll see uguys there 👊🏼

— Nathan Diaz (@NateDiaz209) March 31, 2021
–
Comments
comments