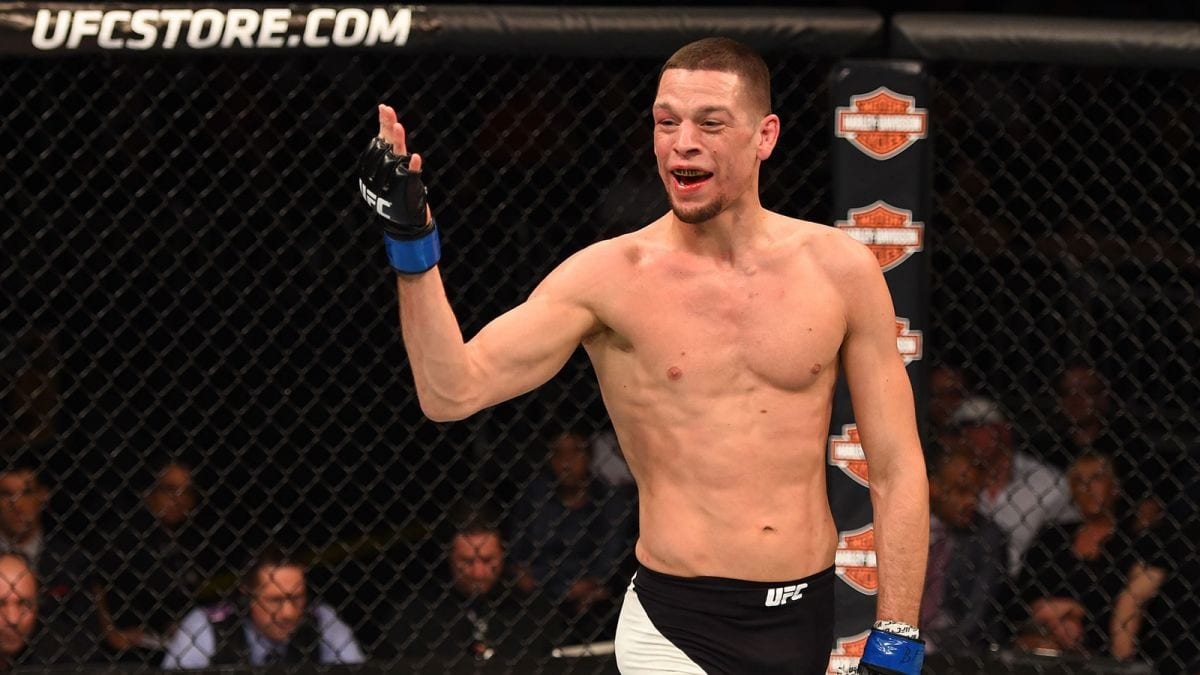 Nate Diaz is back, and he's already got things to get off his chest.
The Stockton man returns to the Octagon for the first time since 2016 on Saturday, when he meets Anthony Pettis in the co-main event of UFC 241. He'll enter the cage as a huge fan favourite, having been blasted to superstardom after a brace of excellent fights with Conor McGregor.
In his mind, however, Diaz believes his prolonged absence can actually be attributed to his second fight with the Irishman — although it's not down to the damage both men shared in their five round epic, but rather the attitude Diaz was met with after he left the cage that night.
"I for sure didn't lose that fight, but they treated it like, 'You lost, go down the list, get out of here,' type of thing," Diaz said, speaking in a lengthy interview with Brett Okamoto. "When he lost the first time to me, it was the biggest thing, and he needed his rematch and he's obsessed with Nate and all this marketing on how much he needed to get this back and how great he is for actually jumping in there and doing it. I'm like, 'Hold up, how about all the rematches I've ever wanted?'
"That's when I should have jumped in my contract, like, 'Hold up, if I'm going to do this rematch, I want all my rematches that you guys never gave me.' I should have done that, but I lost a lot of good months in my life just sweating fights that I've lost that I didn't lose."
Following the success of the McGregor fights, Diaz became acutely aware of his own drawing power. And knowing how well a well timed, passionately delivered called out had worked for him, he sat on the sidelines awaiting another fighter to show the same initiative towards him.
"I'm like, 'You guys pay me way too much to be sitting here, playing a stupid fucking game doing what you guys want me to do, so I'm going to step it out,'" Diaz said. "Then two years flew by, and the whole time I'm sitting there like, 'When is somebody going to step their stupid shit up and start calling for a fight,' because that's what I did. I'm like, 'You're the guy getting all the love and all the shit that I worked hard for, and they're just handing it over and promoting it, and I put work in, and if you're not sitting there thinking this guy is getting what you worked for, you're not working hard enough'."
Diaz was actually scheduled to meet Dustin Poirier last year, only for the bout to be cancelled (although the reason for that cancellation depends on who you believe). In Diaz' mind, that was no great loss, especially after he felt the UFC had no interest in helping or capitalising on his own level of fame and fan following.
"OK, this is what I'm about to do, and two years flew by, and I'm like, 'I don't need to be begging anyone to fight'," Diaz said. "I don't need to fight. I beat the best guy at the moment. I beat the best guy, and you're treating me like, 'Vanish.' Then I'm like, 'Fuck me? Well then fuck you.' Then after a certain while, I'm like, 'What's wrong with these fighters?' I'm a bigger draw, a bigger fight than anybody in the game, and you guys are just going to sit back and not participate. Put me in the outskirts: He dropped from the rankings, he's turning down fights.
"You're going to offer me prelim fighters and be like, 'He turned this down,' and it's like you guys are using that against me now."
In the end, however, Diaz realised who his issue was with, and it wasn't his fellow competitors.
"I think the part of not fighting, the fight wasn't with the fighters no more, they're not on my level," Diaz said. "The fight was with the whole organization, the whole thing. I'm like, I'm losing this fight if I'm just going to sit here and die off in this little town."
UFC 241 takes place this Saturday in Anaheim, California.
Comments
comments