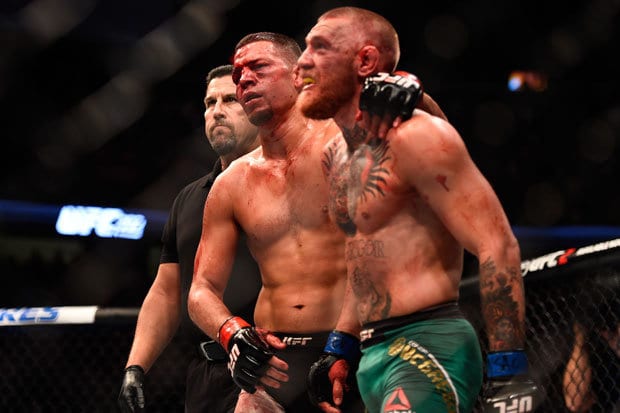 One of the most legendary rivalries in combat sports history will get a third chapter, says Nate Diaz.
Diaz will fight out his UFC deal this weekend when he takes on Khamzat Chimaev in Las Vegas and is expected afterwards to test the free agency market where it is speculated that he may well be lined up as a potential opponent for Jake Paul in the boxing ring, in a bout which would — in theory at least — represent a bumper payday for the Stockton man.
However, there remains one man to whom Diaz remains inextricably linked: Conor McGregor. The two fighters have shared two of the most watched fights in mixed martial arts history, with Diaz become the first fighter to defeat McGregor in the UFC before McGregor earned his revenge several months later in what has gone down as one of the best fights in the history of the sport, as well as among the most profitable.
And while McGregor remains on the shelf after suffering a serious leg injury last year, he is expected to return to action in the coming months, and while Diaz will likely not be a member of the UFC roster at the time the Californian says that the two rivals will certainly fight for a third time.
"The timing's not on right now," Diaz said to Inside Fighting of the third McGregor fight. "We'll worry about that later. It's for sure going to happen at some point. Yeah, at some point. He needs to get back on what he's got to do, whatever that is. It's like, when we match up, we're going to match up. But we ain't going nowhere."
McGregor has also previously suggested that the third fight is likely to take place.
"I'll be prepared for it when we go again. If we go again," he said some time ago. If not, respect always. A war for the ages. No bitch talk. Just real sh*t."
Comments
comments