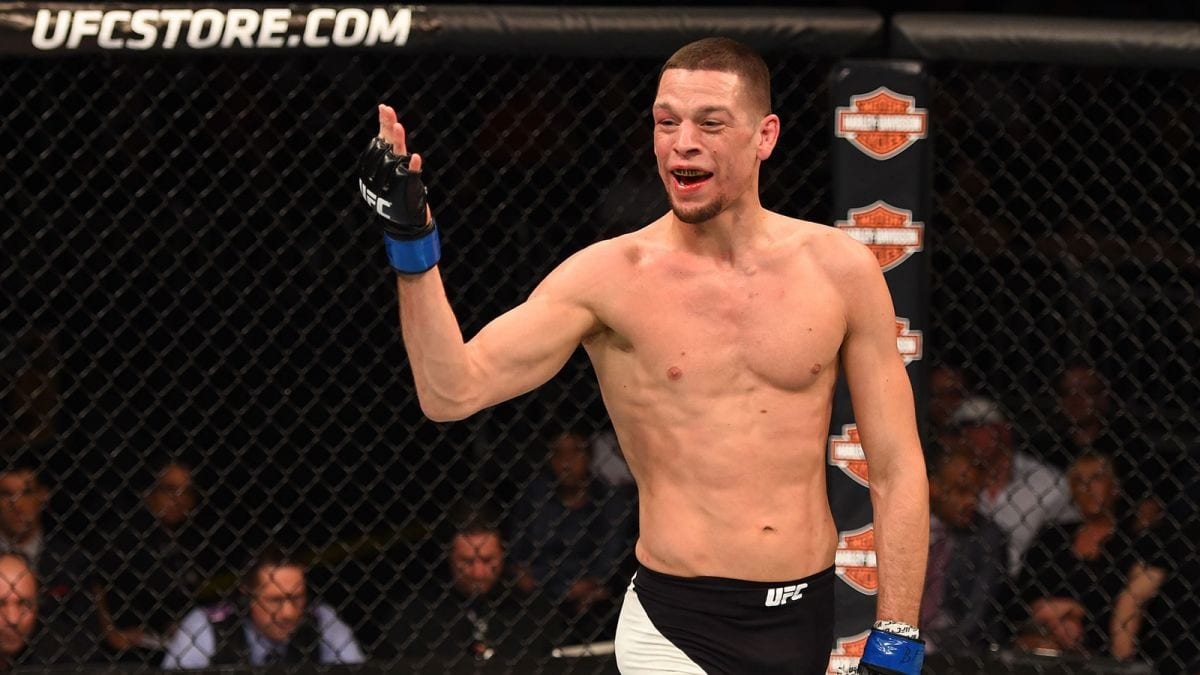 If you thought Nate Diaz was sitting around for Conor McGregor to return so they can finish their trilogy, the Stockton native wants to correct you.
The younger Diaz brother appeared on a special edition of MMAFighting's The MMA Hour today, and delivered in typical Diaz form. After decrying the current state of mixed martial arts, believing that "there's nothing going on in MMA right now. Everything is boring, everyone is complaining," Diaz went on to renounce rumours that he would be seen fighting anytime soon, and instead spoke out to put a few things straight.
"I plan on sitting out this year, and as of right now there's nothing going on and I'm not fighting nobody," Diaz said.
Not that the UFC haven't tried. Instead, Diaz says, it's they haven't tried hard enough. Supposedly the promotion contacted him regarding a bout with Tony Ferguson to take place at UFC 213, but according to Diaz, the figures didn't match his value.
"July 8. I wasn't supposed to say that, but I was [contacted] and I gladly accepted and then it was gladly rejected," Diaz said. "Because it's circumstances, I'm like 'yeah sure, I'll fight him but under these circumstances' but then I was ignored, and then the rumours went on. But I'm like, why are the rumours still going if it's not popping?
"And then I thought about it, and why am I going to do Conor McGregor's fucking work for him. No. Fight each other motherfucker."
Recently, Ferguson has been calling out Diaz repeatedly in an attempt to get a fight organised. While Diaz recognises the effort, he also believes the behaviour stems from an attempt by Ferguson and McGregor's management to get rid of a contender for the Irishman, pointing to Ferguson's lack of trash talk prior to the Khabib Nurmagomedov fight falling through.
"He had all the opportunity, won his last fight," Diaz said. "Went to the Khabib fight, Khabib pulled out and he sat there and didn't say a word, he's like 'I'll do whatever, I'll fight Khabib again'. You should have stepped your game up right there when you had the mic and said 'what Nate Diaz, fuck you, you motherfucker, let's get our fight on.' And then we got a real fight.
"I'm not just going to accept the fight because it's the best move for him and Conor and their manager and the UFC. So I'm doing everybody else a favour now? I don't owe nobody no favours.
Instead, Diaz (in something of a similar fashion to McGregor himself) wants something important and meaningful to entice him back into the Octagon, claiming that fighters need to do more to make themselves an interesting proposition. For example, when the UFC offered him a fight against Eddie Alvarez, Diaz laughed the offer off.
"They offered me Alvarez," Diaz said. "I laughed at them. How dare you? He just got melted by the guy I beat up.
The news must be concerning for the UFC. With McGregor out for the immediate future with a newborn and negotiations for a mega-fight with Floyd Mayweather, and Ronda Rousey looking increasingly retired, the promotion's individual star power isn't overwhelming at present.
With Nate Diaz, they had a recognisable name and face, and an event featuring the Californian would likely have done well. Unfortunately for them, Diaz knows it.
Comments
comments